---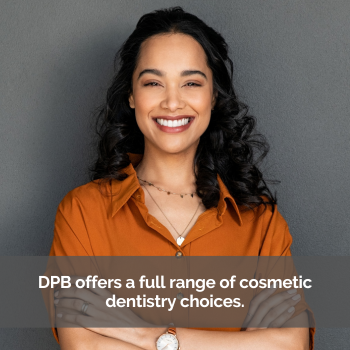 At Dental Partners of Boston, we believe that a beautiful smile is a powerful asset. If you're looking to enhance the appearance of your teeth and achieve the smile of your dreams, our comprehensive range of cosmetic dentistry services can help. In this blog post, we'll explore the distinction between general dentistry and cosmetic dentistry and introduce you to some of the transformative procedures we offer. Get ready to discover how our expertise in cosmetic dentistry can boost your confidence and leave you with a radiant smile.
General Dentistry vs. Cosmetic Dentistry: Understanding the Difference
General dentistry focuses on maintaining the overall health of your teeth and gums, including preventive care, restorative treatments, and routine check-ups. It addresses issues such as tooth decay, gum disease, and oral hygiene.
On the other hand, cosmetic dentistry goes beyond the health aspect and focuses on improving the appearance of your teeth, gums, and smile. It encompasses an array of elective procedures that can enhance the aesthetics of your smile, providing a boost to your self-confidence and overall well-being.
Now let's delve into some of the remarkable cosmetic dentistry procedures we offer at Dental Partners of Boston:
1. Complete Smile Makeovers:
Our complete smile makeovers are personalized treatment plans designed to comprehensively address your unique smile concerns. By combining various cosmetic procedures, such as teeth whitening, dental veneers, and orthodontic treatments, we can transform your smile and create a harmonious, beautiful result tailored specifically to you.
2. Dental Implants:
Dental implants are the gold standard for tooth replacement. They offer a permanent solution for missing teeth, restoring both the aesthetics and functionality of your smile. Our experienced dentists meticulously place dental implants, ensuring a natural-looking result and a strong foundation for your replacement teeth.
3. Dental Veneers:
Dental veneers are thin, custom-made shells that are bonded to the front surface of your teeth. They can address a wide range of cosmetic imperfections, such as chipped, stained, or misaligned teeth. With dental veneers, you can achieve a flawless, radiant smile that is both durable and natural-looking.
4. Invisalign:
Invisalign is a popular orthodontic treatment that straightens your teeth discreetly using a series of clear, removable aligners. Unlike traditional braces, Invisalign aligners are virtually invisible, allowing you to improve the alignment of your teeth with minimal impact on your daily life.
5. Lumineers:
Lumineers are ultra-thin, porcelain veneers that can transform your smile without extensive tooth preparation. With Lumineers, you can achieve a stunning smile makeover with minimal alteration to your natural teeth, providing a painless and convenient cosmetic solution.
6. Teeth Whitening:
Our professional teeth whitening treatments can effectively brighten your smile, removing stains and discoloration caused by factors such as aging, dietary habits, and lifestyle choices. With our safe and effective whitening options, you can achieve a noticeably whiter smile that enhances your overall appearance.
7. Tooth-Colored Fillings:
Tooth-colored fillings offer a more aesthetically pleasing alternative to traditional silver amalgam fillings. Made from composite resin materials, these fillings blend seamlessly with your natural tooth color, providing a discreet and durable solution for repairing cavities.
8. All Porcelain Dental Crowns:
Our all-porcelain dental crowns are meticulously crafted to restore the shape, size, and strength of damaged or compromised teeth. With their lifelike appearance and superior durability, all-porcelain crowns can rejuvenate your smile and ensure long-lasting results.
9. Botox and Dermal Fillers:
In addition to our exceptional dental treatments, we also offer non-surgical facial rejuvenation options such as Botox and dermal fillers. Administered by our skilled professionals, these cosmetic treatments can help smooth fine lines, reduce wrinkles, and restore volume to areas of the face, providing a comprehensive approach to enhancing your overall facial aesthetics and the balance of your smile.
10. Dental Bonding:
Dental bonding is a versatile cosmetic procedure used to address various dental concerns, including chips, cracks, gaps, and discoloration. With dental bonding, a tooth-colored composite resin is applied and sculpted to blend seamlessly with your natural teeth, resulting in a beautiful, seamless smile.
Experience Cosmetic Dentistry at Dental Partners of Boston:
At Dental Partners of Boston, we believe that everyone deserves a smile they can be proud of. Our dedicated team of experienced cosmetic dentists and specialists is committed to providing personalized, high-quality care to help you achieve the smile transformation you desire. Whether you require a complete smile makeover, dental implants, teeth whitening, or any other cosmetic procedure, our state-of-the-art facility and advanced techniques ensure exceptional results.
We invite you to schedule a consultation today and explore the possibilities of cosmetic dentistry. Our team will carefully assess your unique dental needs and develop a customized treatment plan to help you achieve the smile of your dreams. Discover the life-changing benefits of cosmetic dentistry and embark on a journey towards enhanced self-confidence and a stunning smile.
Contact us today and take the first step towards your radiant, beautiful smile!