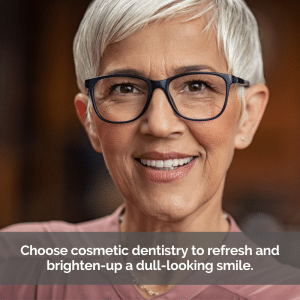 You're never too old to improve your smile. Over time, your teeth are likely to become discolored, worn, or chipped. These are normal changes, but sometimes such damage can lead to some discomfort or a feeling of self-consciousness. As your dental health changes and your smile starts to dull, cosmetic dentistry options may provide the perfect solution.
Teeth Whitening
A good way to give yourself a bright smile once again is to have your teeth whitened. Certain foods, drinks, and habits like smoking can affect the color of your teeth. Wine and coffee actually stain enamel. As far as cosmetic dentistry goes, whitening will remove those stains and give your teeth an even, pearly gleam.
Veneers
Dental veneers bond to the front of your teeth. They are made of ultra-thin, customized material, and designed to give you beautifully shaped white teeth. They're considered to be a conservative and subtle treatment when it comes to cosmetic dentistry options to revamp your smile. Dental veneers may also be a great option for damaged teeth.
Tooth-Colored Fillings
A traditional amalgam filling is easily identifiable because of its dark silver color. It can even change the white appearance of the tooth itself. Over time, silver fillings discolor the tooth's enamel, making it look slightly gray. Amalgam can also expand and contract as you eat or drink hot or cold foods, which can cause teeth to crack.  If you dislike the way they show in your smile, we can replace them will tooth-colored fillings. Made out of composite materials, white fillings are the preferred option when repairing cavities. With a tooth-colored filling, no one else will see that you have one at all.
Dental Implants
Dental implants are a good option for those who have missing teeth. Everyone's teeth are subject to decay and disease after a lifetime of use. Sometimes it's necessary to have a tooth extracted for dental and overall health, but it's ideal to leave a gap. Dental bridges may not always be an option, in which case we recommend an implant to replace the missing tooth or teeth. Not only do they provide a solid base for restoration, just like a natural tooth root, but they also look just like your natural teeth. Dental implants also feel just like your natural tooth and function so well that you may even forget it's there yourself.
Choose Dental Partners Of Boston For Cosmetic Dentistry
Cosmetic dentistry gives our patients options to restore their smiles. Here at Dental Partners of Boston, we're more than happy to answer all your questions about rejuvenating your smile.  Request an appointment today and let us work with you to get a smile you love, whatever your age. Everyone deserves a healthy, bright, and beautiful smile!