At Dental Partners of Boston, we recognize that oral health and overall health are intricately linked. As health care providers, we strive to educate our patients on better health practices across all aspects of their lives.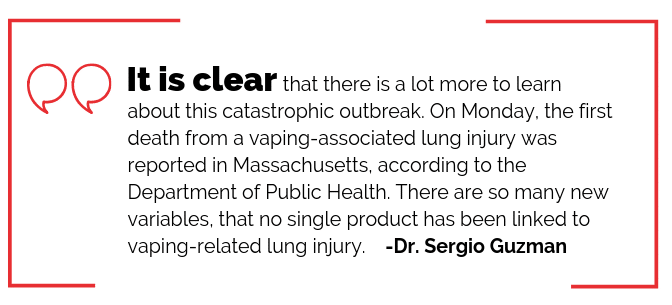 At this time, we want to share the recent disturbing news regarding the use of e-cigarettes and vaping, the effects they are having on the health of many in our own communities, and the associated recommendations from the Governor, the CDC, and the Public Health Department.
As of September 24, 2019, Governor Charles D. Baker has declared a public health emergency in the Commonwealth, in response to disease linked to the use of e-cigarettes and vaping products and the unprecedented rise of e-cigarette use among youth.
The declaration comes on the heels of the CDC's September 19th confirmation of 530 cases of unexplained vaping-associated pulmonary disease across 39 states and U.S. territories. The report included seven fatalities, and all 530 cases had a history of vaping, and a history of using vaping products containing tetrahydrocannabinol (THC), nicotine, or a combination of both.
In tandem with the Governor's declaration, Dr. Monica Bharel, Commissioner of the Massachusetts Department of Public Health, has announced that the sale or display of all e-cigarettes and vaping products to consumers in retail establishments, online, and through any other means is prohibited in the Commonwealth.
This ban covers both non-flavored and flavored vaping products, including those with the following ingredients: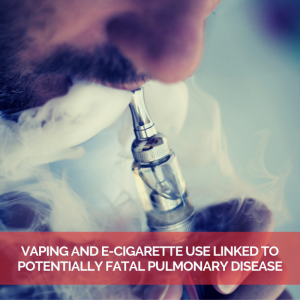 Mint and menthol
Nicotine
Tetrahydrocannabinol (THC) and any other cannabinoid
As of September 11th, Dr. Bharel mandated that possible cases of vaping related pulmonary disease be immediately reported to the Massachusetts
Department of Public Health (DPH), for the investigation, monitoring, and resolving of the public health issue.
We know that vaping and smoking are presenting similar results across our patient population. We are committed to providing support for patients who are seeking a cessation of smoking or vaping. The following resources may be helpful:
https://www.mass.gov/info-details/vapes-and-cigarettes
http://makesmokinghistory.org/dangers-of-vaping/
http://quitworks.makesmokinghistory.org/uploads/Pharma_Guide2.pdf