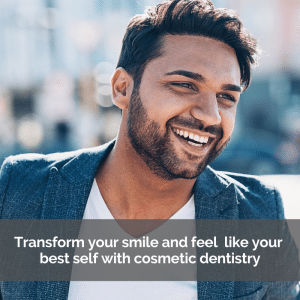 Confidence is something that helps open many doors. It's attractive to others because it shows you to be more capable. You carry yourself in a way that says, "I got this." It's in a natural, easy, bright smile that you don't hesitate to show the world.
It's a common belief that self-confidence is something that you have to be born with, but we say that is a false idea. We challenge it because we know that humans go through experiences that transform them into better versions of themselves. We all work toward growing and learning in our lives. What you learn through these experiences shows in your character.
However, we are also not born with a set of perfectly formed, picture-perfect, set of pearly white teeth. Most of us need help in that area. If you want your smile to reflect your inner strength, contribute to the image you project, and boost your confidence, contact us for an appointment to talk about cosmetic dentistry options. Tell us about the goals you have for your smile, the ways you want to improve it, and we'll recommend solutions that will work for you.
Complete Smile Makeovers
When you want a completely different smile, we can design a new one through a series of cosmetic procedures that consider tooth color, alignment and spacing, missing teeth, and harmony and balance in the overall look of your teeth.  We'll consider tooth length, your smile line, tooth proportions, tooth texture, and even characterization. Have you always wished for a more feminine smile, for instance? We can do that. We will work closely with you to develop a treatment plan to create the smile you wish for.
Invisalign®
Invisalign® is a brilliant cosmetic dental system designed to straighten teeth discreetly. Many adults who need orthodontic treatment choose Invisalign because they can achieve a straight smile without the undesirable appearance of traditional metal braces. They are also much more comfortable to wear and easy to use.
Dental Veneers
Veneers are thin laminates made of porcelain or resin bonded to the front of your teeth. Veneers correct small imperfections in your teeth, concealing stains, chips, even slightly misaligned teeth. They are shaped and colored to appear natural-looking in each individual's unique smile. Veneers can cover a single tooth and still not look out of place next to the natural neighboring tooth. Dental veneers are a cosmetic dentistry procedure truly worth the investment.
Teeth Whitening
Professional teeth whitening is a popular cosmetic dental procedure and the fastest way to achieve a smile free of color blemishes from food stains or color differentiation in the tooth enamel. It also lasts much longer than a typical take-home tooth whitening kit. We can specifically target teeth or areas of teeth necessary to create a uniform look in your smile.
When you work hard in your daily life to be your best self and live your best life, but your smile is something that seems to weigh on your self-image and affects your confidence, go ahead and request an appointment for a cosmetic dentistry consultation with us. You'll be amazed at the transformation you see in your smile, and also yourself. Enjoy feeling on top of the world as you unhesitatingly share your smile.