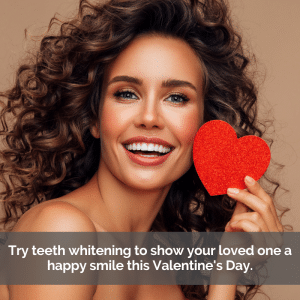 With Valentine's Day just around the corner, there's never been a better time to get a brighter smile. If you're looking to blow your loved one away with a radiant smile, here are four things you should know about teeth whitening.
1. Why Teeth Become Discolored
Our teeth can become discolored for a variety of reasons, one of the biggest culprits is food and drink. Coffee and tea, red wine, soy sauce, and tomato-based sauces can all stain our teeth. Color pigments named chromogens fix themselves to the enamel, which leads to discoloration. Tobacco is another leading cause of discolored teeth, leaving a yellow tint on the surface. Age also contributes to teeth discoloration, as the outer enamel naturally becomes thinner.
2. Options for Teeth Whitening
To get a brighter smile the best thing to do is to visit us at Dental Partners of Boston for a whitening procedure. In-office teeth whitening generally takes under one hour. We will first evaluate your teeth and then make simple preparations for the process. There are several benefits to in-house teeth whitening, including:
Quick and easy, an in-house visit is the most convenient way to whiten your teeth.

Professional dentists fully trained in teeth whitening processes.

Fast results, get several shades whiter in just one hour.

Education about the process to keep your mind at ease.
Another option is purchasing a teeth-whitening kit for at-home use. These kits are generally less convenient and effective. If you experience side-effects, it's more useful to have the support of a trained dentist.
3. Possible Side Effects
Some patients experience sensitivity, it's likely because the whitener has penetrated the dentin, and irritated the tooth. Most of the time, this sensitivity is merely temporary. Another issue is that overusing whiteners can actually damage the gums or tooth enamel. It's advisable to have the treatment with our dentists, to avoid any issues. Our dentists can answer any questions you have about side effects and the overall procedure.
4. How Teeth Whitening Works
The teeth whitening process is straightforward and safe. Teeth whitening products contain hydrogen peroxide or carbamide peroxide. Both of these are bleaches, they fade stains on the teeth, to give you a brighter smile. The teeth bleaching gel works into the enamel and reaches the dentin. The bleach contains molecules of oxygen, which help the discolored particles to break down. After just one tooth whitening session you'll be amazed at the gleam in your smile. To beautify your smile this Valentine's Day, treat yourself to a cosmetic teeth whitening procedure.
Dental Partners of Boston Can Help
Dental Partners of Boston is one of the best dental practices in Boston, you won't be disappointed with our expert teeth whitening procedures. We strive to exceed patient expectations in everything we do. With our extensive experience and our talented dental team, we can meet all of your dentistry needs. For more information about our in-house teeth whitening procedures, please request an appointment.