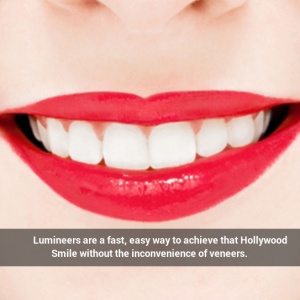 If you're looking to improve your smile, but the thought of veneers scares you, Lumineers might be the perfect solution for you. Unlike thick traditional veneers that can damage teeth, Lumineers are ultra-thin alternatives made of translucent porcelain. Lumineers allow you to reshape and whiten your teeth, while still giving you a natural look, because Lumineers mimic the look of enamel. Even though they are about as thin as a contact lens, they are extremely durable, and generally last for 20 years. It's no surprise that at Dental Partners of Boston, your provider for cosmetic dentistry in Boston, we frequently suggest Lumineers to patients who want to beautify their pearly whites. Keep reading for just a couple of the many reasons we love Lumineers.
A Simple Way to a Hollywood Smile
One of the greatest advantages of Lumineers is their simplicity. The process consists of only two visits to our office. During the first visit, one of our clinicians will take a mold of your teeth, which will be sent to a Lumineers laboratory. We will also send pictures and other relevant information so that the technician making your Lumineers can create the best fit for your mouth. Two or three weeks after your initial appointment, you will visit our office again, and we will fit the Lumineers to your teeth. Before the Lumineers are bonded to your real teeth, you'll have the opportunity to feel how they fit in your mouth to ensure that they are comfortable. After you've confirmed that they fit correctly, we will bond the Lumineers to your natural teeth and send you on your way. Lumineers are a comfortable and easy way to get the beautiful smile you've always wanted.
A Noninvasive Way to Improve Your Pearly Whites
Unlike traditional veneers, Lumineers require very little or no removal of the natural tooth underneath, leaving your original smile strong and healthy. Because we don't have to file down the original tooth, Lumineers don't leave your teeth sensitive, and they are a comfortable fit right away. Not having to alter your natural teeth also means that if you decide you want your Lumineers removed in later years, you can do that.
Our Boston cosmetic dentists are anxious to give you the smile you've always dreamed of with Lumineers. If you want a painless, simple, noninvasive way to straighten, whiten, brighten, or reshape your teeth, contact Dental Partners of Boston to learn more about how Lumineers could be a perfect fit for you.