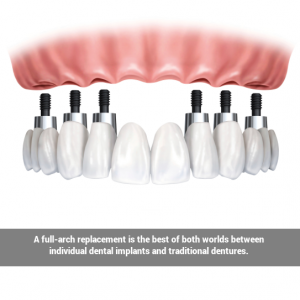 Are you living with missing teeth? In addition to affecting your self-esteem, tooth loss has also been tied to malnutrition, bone loss, and unpleasant social consequences. Fortunately, with modern restorative dentistry techniques, you can enjoy a smile that looks completely natural.
The Problem With Traditional Dentures
In the old days, patients typically had to choose between living with missing teeth or getting dentures. Dentures, which are realistic looking, relatively inexpensive, and easy to make, offer many people the opportunity to enjoy a nice looking smile. Unfortunately, since the mouth is constantly changing after teeth go missing, dentures need to be adjusted every few years to stay comfortable.
Fast-forward to the early nineties when dental implants became mainstream, and many patients flocked to periodontal offices inquiring about the procedure. Unfortunately, since dental implants in Boston can be expensive, many patients couldn't afford to have an entire arch replaced with dental implants—until now.
Full Arch Replacement with Dental Implants
Today, periodontists and prosthodontists combine the stability of dental implants and the simplicity of dentures. A small number of dental implants are used as anchors for permanent bridges to replace a full arch of teeth, creating a stable, attractive smile without the problems associated with traditional dentures.
The Dental Implant Timeline
In order to create a stable anchor for your permanent denture, dental implants will need time to heal before the final denture can be placed. Because of this, the placement of your dental implants can take as long as a year, depending on your oral health. For example, if you need bone grafting to strengthen your jaw tissue prior to dental implants, your restoration may take longer than someone who doesn't require this prerequisite procedure.
After your implants are placed, they will be allowed to heal. After the area has healed, careful impressions and measurements will be taken so that your bridge can be created. A temporary bridge can be used while we wait for your permanent denture to be fabricated. After your denture is ready and your implants are strong and healthy, you will be asked to return to the office to have it placed.
If you are interested in having a full arch replacement with dental implants, contact Dental Partners of Boston today. As your Boston dentist, we can see you through this process from start to finish–from a bare, gummy mouth to a full, bright smile.