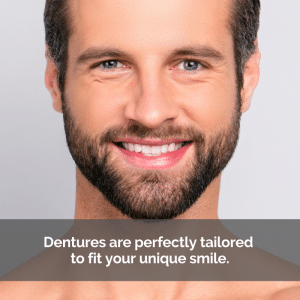 For many people, dentures are the ideal solution to replace missing teeth. Being able to depend on a beautiful smile and a functioning chewing surface can make life much better. However, it can take some time before patients are able to switch to permanent dentures. Additionally, they sometimes worry about how they'll handle the transition period. Fortunately, we're able to ensure patients never have to spend a day without comfortable dentures.
Why Wait for Permanent Dentures?
When teeth are extracted in preparation for dentures, it takes time for the mouth to heal. Swelling goes down over a period of weeks. Furthermore, the mouth adjusts itself over time and may change shape a bit in the process. Because of this, fitting permanent dentures right away means they wouldn't last long. Therefore, there needs to be a temporary solution.
How Do Dentures-In-A-Day Work?
Before tooth extraction, our team takes measurements of the mouth to prepare the temporary dentures. Because of this, patients visit the dentist before their teeth extraction in preparation. We are careful to schedule appointments to ensure patients have their temporary dentures immediately upon leaving our office, so there's no need to worry about a subpar smile.
Are Temporary Dentures Difficult to Manage?
Today's dentures-in-a-day let patients resume normal life activities right away. There are some important care steps to keep in mind. Patients must wear their immediate dentures for at least 24 hours and clean them at the right intervals. Fortunately, maintenance is easy, and our care team prepares patients well before they leave. It's important to not smoke and to avoid hot liquids for 24 hours after the placement of temporary dentures.
Are Temporary Dentures Painful?
Patients might feel a bit of pain due to having their teeth extracted. However, this pain generally only lasts for a few days and should completely subside. Simple painkillers tend to do a great job at helping patients feel comfortable during the early phase of the healing process. Feel free to ask us if you have any questions.
we understand that using dentures can be an anxious process, especially while waiting for the mouth to heal, but we're here to support you through the experience. We're only a call away. Countless people are successfully using dentures and enjoy great smiles and excellent functionality. If you're interested in switching to dentures or have any other questions, make sure to contact us to learn more.