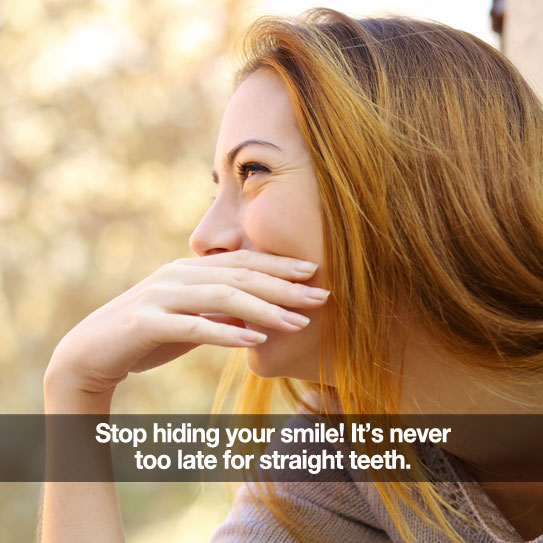 YOUR SMILE IS A POWERFUL tool for good! It can relieve stress, make you appear more attractive, and can even help you get promoted at work. So what's keeping you from smiling more? If you're self conscious about a not-quite-straight smile, we can help you with that!
It's Never Too Late To Get A Straight Smile
Here at Dental Partners of Boston we know having a straight smile can boost confidence. That is why we offer adult orthodontics in our office. One in five orthodontic patients is an adult.
Orthodontic Treatment May Be Important For Your Health
When our teeth are crowded and misaligned, they can be harder to clean. As teeth put pressure on each other and block proper cleaning, we can find ourselves with gum disease, possibly leading to tooth loss and severe discomfort.
Another way that orthodontic treatment can help your health is by aligning your bite. An uneven bite can cause teeth to become unevenly worn down. It can also cause strain and discomfort in the jaw, which may contribute to chronic headaches and teeth-grinding.
We Offer Invisalign
We understand that having a mouthful of metal can be unappealing for many adults. Invisalign is a teeth alignment system that is metal-free and can be worn without anyone noticing. Invisalign uses clear custom-made trays to straighten your teeth. Dental Partners of Boston has been an Invisalign Preferred Provider for years. We have the skills and experience necessary to give you the stunning results you want.
Contact us today for a consultation and we'll get you on your way to a straighter, more beautiful smile.