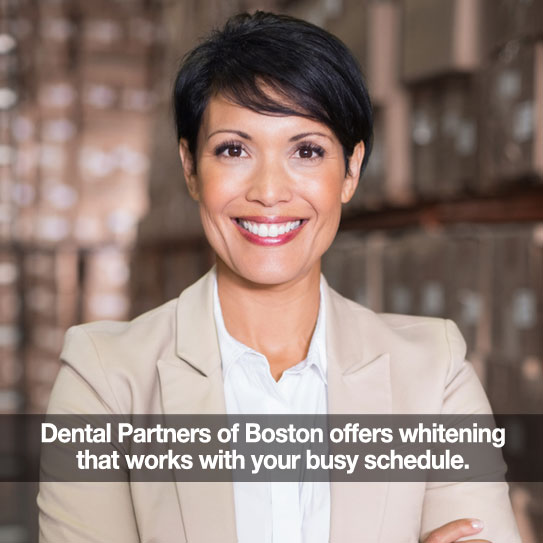 LIFE CAN BE HARD on our teeth. Over time, we all notice a little bit of staining and discoloration. Whether that staining is from coffee, wine, sauces, or berry juice, it can make us self conscious.
Are you finding yourself hiding your teeth, or smiling less? Here at Dental Partners of Boston we want to help you feel 100% confident in your smile. That's why we offer great whitening solutions to our patients.
We Offer Two Great Whitening Options
In-Office Whitening
Our in-office whitening is a one-time procedure and takes less than an hour to complete. In-office whitening is done by our trained cosmetic dentists to ensure you get the shade you want. You'll see results instantly and be able to go home that same day with a whiter, brighter smile.
At-Home Whitening
Whitening at home is convenient, easy, and effective with our whitening kit. We'll provide custom trays, molded to fit the shape of your mouth, for comfort and efficiency. We'll instruct you on the use of the trays and the whitening gel. This method is amazingly easy. It will give you control of the shade of white you achieve, and allow you to schedule whitening around your busy schedule.
Ring In The New Year With A Brighter Smile!
Is your resolution to smile more this year? Contact us! Teeth whitening is an easy way to look younger and boost your confidence. Call us for a consultation today.
Thanks for being a valued part of our practice!