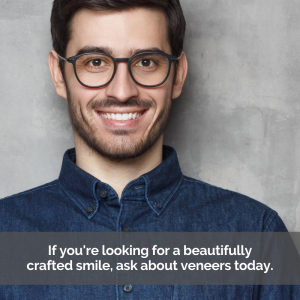 Dental veneers are specially designed, natural-looking tooth coverings that can be attached to the front of your teeth to improve the aesthetic appearance of your smile. Dental veneers are made from either porcelain or a resin-composite and bonded permanently to the teeth. They offer a long-term solution to stained, damaged, or unsightly teeth.
As we will explain in our initial consultation, veneers are a popular treatment option for managing a number of different cosmetic dentistry concerns. Some of these concerns include broken, stained, chipped, or small-sized teeth. While some people choose an entire set of veneers, you may choose one or two to fix improve your smile. However, in order to create a more symmetrical smile, most people get at least six veneers fitted to their teeth.  We would love to talk with you about your smile and help you choose what will work best for you. You may have questions for us, which we will be sure to answer as we discuss your options.
Are there different types of veneers?
Usually, dental veneers are made of porcelain, however, composite materials are also used, and depends on the patient. Applying traditional veneers made from porcelain requires a longer preparation process than composite veneers.
To ensure a smooth surface for the veneer, the natural tooth often needs to be ground down slightly. By grinding the tooth down and removing some of the enamel, it is easier to apply the veneer. However, it's important to remember that the procedure is irreversible, and once you have a veneer, you will require veneers for life.
When applying composite veneers, the procedure is a little different. While the tooth may need some preparation, it tends to be far more minimal than traditional veneers.
A key difference between these two types of veneers is the fact that traditional veneers usually require local anesthetic, while composite veneers don't tend to require any anesthetic.
Are veneers different from dental implants and crowns?
Veneers are not the same as dental implants or crowns. Despite serving a similar purpose, there are different ways to fit a veneer and they have different results. There are big differences between the three types of dental solutions. Veneers cover the front of the tooth, while implants replace the entire tooth and crowns encase the whole tooth above the gum line. Veneers act as a covering plate on the tooth, whereas dental implants and crowns are more invasive. Although they do have some health benefits, veneers are more for cosmetic reasons. Dental implants and crowns have a cosmetic aspect to them but are more for health purposes.
The route that you and your dentist choose to resolve your dental needs greatly depends on your needs and the desired outcome. Are you getting veneers to improve your smile or save your teeth? The answer will bring you to a different set of solutions.
Contact A Professional
When you contact us for an initial consultation, you will have an opportunity to ask questions so you know if veneers are right for you. How long it will take, what the costs are, how to care for them, and how long you can expect them to last will be answered during this meeting. We can even show you a digital representation of what your new teeth and smile will look like!  This way, you know what to expect before we schedule the treatment. Please give us a call today to talk about how dental veneers can help you look and feel your best!