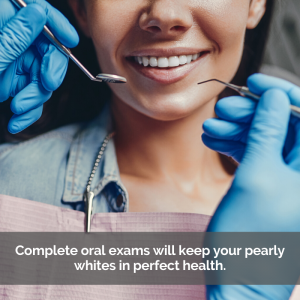 Regular dental checkups and oral exams are essential for good overall health and well-being. Far too many people put off their dental visits for long periods of time. Here is a look at the thorough oral exams we offer at Dental Partners of Boston. Our team of highly dedicated and conscientious professionals will take great care of your oral health and answer any questions you may have.
Dental Exams of Diagnostic Low-Radiation X-Rays
With low-radiation x-ray exams, we can detect decay, spot tumors, and cysts, and diagnose bone loss. The x-ray dental exams will then allow for quick and effective treatment and correction. Low-radiation x-rays are also useful for determining the precise positions of your teeth and roots.
Oral Cancer Screening
Our oral cancer screening involves a thorough examination of the face, neck, lips, tongue, throat, soft tissue, and gums to spot cancer in the early stages. Here is a look at each of our dental screenings.
Gum Disease Evaluation
Our team will investigate your gums and supporting bone structure for any signs of developing periodontal disease.
Tooth Decay Screening
A close oral exam of all your tooth surfaces will tell us if there is any tooth decay. If any issues are identified from our examination, necessary recommendations will be provided.
Examination of Your Existing Restorations
Your existing fillings and crowns need to be monitored and maintained – and we will conduct appropriate evaluations for that purpose.
Occlusion Analysis
An irregular or otherwise compromised bite can harm the structure of your face, and can even contribute to issues such as TMJ. That being the case, we will evaluate your bite, notify you of any issues, and make recommendations as required.
Smile Analysis
Everyone wants a beautiful smile. If you're not happy with your smile, we can conduct a smile analysis to put you on the fast track to the smile of your dreams.
Why regular dental exams are essential
Regular dental exams are essential for all sorts of different reasons, not least of all the fact that the mouth is the primary entry point to the body. Poor dental health can cause a slew of other health conditions, and in extreme cases, can even be life-threatening. Good dental health is also essential for enjoying everyday life without unnecessary pain or complications. No one wants to have trouble eating, speaking, or even sleeping peacefully.
Finally, the state of your mouth and teeth have an effect on the relationships you develop with others. For this reason, it's essential to keep your teeth looking presentable and perform their vital functions properly.
Regular dental exams can help you to identify issues as they are developing, and to nip them in the bud so that you aren't confronted by significant problems further down the line.
Contact us
Our complete oral exams can help to ensure that your smile stays bright and healthy, while also safeguarding your overall health and sense of well-being. Contact Dental Partners of Boston to schedule an exam with one of our highly capable and professional dentists today.