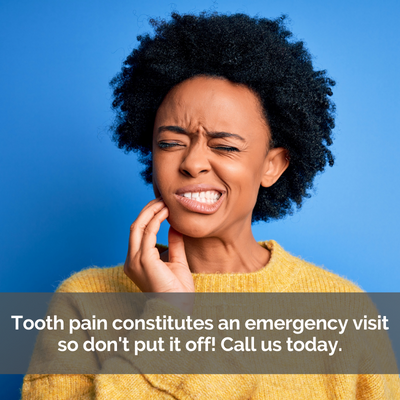 It may start as an annoying sensitivity or happen all at once when you bite into a favorite food, but one thing's certain, dealing with a toothache is a pain! For some toothache sufferers, the temptation to ignore that sting or throb may be high if your schedule is packed. But take it from the professionals at Dental Partners of Boston, tooth pain can't, and shouldn't, wait.
"I'm worried I can't get an emergency appointment for my toothache."
Toothaches often strike at inconvenient times, which is why we make sure our team of dental professionals is ready when you need us. From cosmetic dental specialists to our periodontist Boston team, we'll get you seen ASAP at one of our convenient locations: Prudential Center, Charles River, or Fort Point. You can always expect fast, judgment-free care from our dental professionals, no matter which office you choose.
"My toothache isn't that bad. I think."
We believe that dental pain is an emergency all by itself – it affects your ability to talk, eat, and enjoy your life, after all. You don't need to wince or try to awkwardly chew with only one side of your mouth, help is just a phone call away. Ignoring pain—your body's natural alarm system that something needs help—can lead to more significant dental problems if left untreated. Don't wait for decay or a structurally weakened bite to lead to permanent tooth damage. Treat your toothache right away and get the comfort and peace of mind you deserve.
"I used an over-the-counter remedy for my toothache, I should be fine."
Here's the truth. If your oral pain or discomfort has gotten your attention, it's already progressed beyond the point of simple pain medication, numbing creams, or over-the-counter dental remedies. It's important to get the source of pain checked out for overall health, too. Gum disease can affect blood and body health if it becomes severe. Our periodontist Boston team can identify infections and gum problems that may be causing your pain, treating the problem quickly and directly so you won't have to worry.
Don't let your toothache compromise your quality of life. Let us help you get to the "root" of the problem with kind, comprehensive dental care. If you have a toothache, contact Dental Partners of Boston today to make an emergency appointment and get the relief you need to keep you smiling.