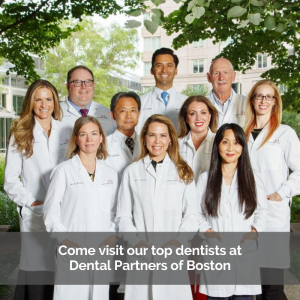 At Dental Partners of Boston, we pride ourselves on being able to service all of our patients' dental needs. Our team of highly experienced dentists and specialists in several specialties have been named Top Dentist by Boston Magazine. This list is carefully curated and includes general dentists and specialists. No matter what your needs are, Dental Partners of Boston can provide you with the best dentist to suit your dental needs.
Multi-Service Dental Care Facility
Our facilities are one-stop-shops for all your dental needs because we have the teams available to service every specialty and meet every challenge. Because we have every specialty under one roof, we are able to quickly service and resolve your dental needs. Additionally, because we work so closely together, we are more efficient than other dental practices.
Cosmetic Dentistry
We offer many dental services including teeth whitening, CEREC single-visit crowns, total smile makeovers, dental bonding, dental implants, dental veneers, Invisalign, lumineers, and teeth-colored fillings just to name a few.
Dental Surgeries
Our top-rated dentists and dentistry specialists also offer all types of dental implants like bone grafts, immediate dental implants, peri-implantitis, LAPIP as well as sinus lifts.
Preventative Dentistry
We also offer preventive services like comprehensive oral exams, teeth cleanings, digital dental x-rays, non-surgical periodontics, and oral cancer screenings.
Preventative dentistry is more effective when patients are more knowledgeable about caring for their teeth before and after procedures. For this reason, we also offer home dental education so you can care for your teeth between dental visits.
Professional and Thorough
Jennifer S.
★★★★★
The best experience one could have- so professional- I felt that everyone took appropriate precautions to maintain everyone's safety, both staff and patients, while still giving great care.
If you suffer from a special condition like gum recession, gum depigmentation or need to go under oral surgery we can help. We also provide the following services:
pinhole surgery
pocket reduction surgery
periodontics
gum therapy
prosthodontics
root canals
TMJ disorder treatments
At Dental Partners of Boston, we have the tools and expertise to treat you for any dental need.
Our Team of Dental Professionals
The best thing about our comprehensive practice is the fact that we have gathered some of the most talented professionals. Our team is focused on exemplary patient care and is committed to providing excellent quality dental care. This commitment makes us one of the most effective and well-regarded dental practices in all of Boston.
Friendly, Very Safe, Dr. Mujica Is the Best
Steve S.
★★★★★
I a new patient, beautiful office space, friendly staff and felt very safe. Dr. Mujica is warm, friendly and explains every step of the procedure! She does not rush, asks if you have any questions and has such a nice soft touch with her hands. Dr. Mujica loves what she has been trained to do, and clearly the best dentist I have ever been to. Thanks so much!
We have implemented resources to streamline your doctor's visit such as the option to pay online or request an appointment online. We also have three locations: the Prudential Center office, the Charles River office, and our new Fort Point office. Our appointments are available anytime between 7:00 am to 7:00 pm for your convenience. Our dentists have over 45 years of experience and it shows. Schedule an appointment with us or give us a call for your next dentist appointment.