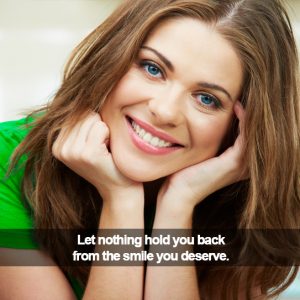 Whether through years of neglect or an accident that left your mouth and teeth damaged, nothing should hold you back from the smile you deserve. You should feel comfortable and happy to share your bright, unique smile with the world. Don't let anything hold you back—make a change today; it's easier than ever! If you haven't heard of Dental Partners of Boston's full smile makeover process, then it is time that you learn how it can change your life. This four step process will change the way you, and everyone else, sees your smile.
STEP ONE: SMILE EVALUATION
Prior to receiving any cosmetic dentistry procedure, it is important to understand what you would like to change your smile. To begin, it is crucial to have a skilled cosmetic dentist, such as our talented Dr. Cardenas, for example, look at the aesthetics and structural needs that have to be addressed regarding your smile. This planning stage is the time to figure out if you need your teeth straightened, whitened, repaired, replaced, or any other procedure done.
STEP TWO: BALANCING YOUR SMILE
Once the needs of your smile makeover have been determined, we can begin balancing your smile through a variety of reshaping procedures. For most people, this means getting your teeth straightened through the use of adult orthodontic techniques like Invisalign invisible braces. This is an excellent and pain free way to receive the straight, balanced smile you've always desired.
STEP THREE: CUSTOMIZING YOUR SMILE
After your smile is properly balanced, it can be then customized to address the unique needs of your mouth. For example, if you require a restoration like Lumineers dental veneers or a porcelain crown to cap a damaged tooth, Dental Partners of Boston can help you. We utilize a Cerec 3D machine to custom design any and all restorations in house with a single visit to our office.
STEP FOUR: POLISH AND SMILE
Polish and smile is the last step performed in the four step full smile makeover process. This is the time for teeth whitening; after all, we want your smile to be perfect beforehand. Both Zoom! and BrightSmile tooth whitening services are available depending on the preference of the patient. The first procedure utilizes hydrogen peroxide to get your teeth white while BrightSmile offers the option of a whitening gel substance. Our doctors at Dental Partners of Boston are specially trained in these teeth whitening procedures and will polish your teeth to a smooth shine once the procedure is complete.
There you have it—the secrets to a full smile makeover at Dental Partners of Boston. Whether you require just a touch up to your smile or if you need to restore your smile, Dental Partners of Boston has you covered with our four step process and our vast number of cosmetic dental procedures available. For additional information on a full smile makeover, please call or contact us online. We look forward to meeting you.