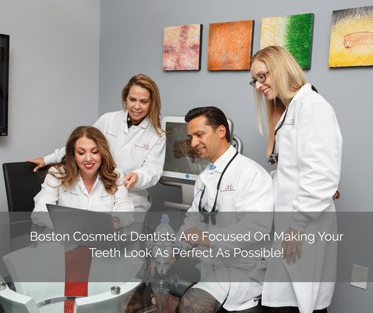 You can put the reasons patients go to the dentist into two broad categories: those who go for medical procedures, and those who go for cosmetic. A cosmetic dentist is, as you might expect, a dentist carrying out treatments to improve the visual appearance of teeth.
Teeth can suffer from a variety of aesthetic issues. Sometimes teeth can be stained by coffee, tea, wine, and other foods because of the tannins they contain. Staining makes teeth appear yellowish-brown – not ideal. Cosmetic dentists use cleaning methods to remove the stains, and whitening agents to make them look whiter.
In some cases, no amount of cleaning or bleaching can whiten teeth. For instance, patients who took certain types of antibiotics called tetracyclines in childhood can have permanently discolored teeth. In these situations, however, a dentist can still improve the appearance of their teeth using dental veneers. Dental veneers are just small pieces of ceramic (or other material) that sit over the top of teeth, providing a new front to make them appear better.
Boston cosmetic dentists, therefore, focus on making teeth look as good as possible. What's more, improving the appearance of teeth often makes them more functional too.
Dental Partners of Boston: Comprehensive Dentistry
At Dental Partners of Boston, we believe that patients should be able to get all their dental needs met by a single clinic. That's why we offer both regular and cosmetic dentistry, integrating our services into a seamless whole. Through us, you can get extractions and fillings as well as whitening and other cosmetic procedures. We're a one-stop shop, meaning that you don't have to go to multiple dentists to get work done. It's all available right here at our practice.
Our team of dentists has years of experience and, thanks to their knowledge, can meet any cosmetic dental needs that you might have. Our cosmetic dentists can beautify your smile in all kinds of ways.
Schedule Your Appointment Today
If you are looking for cosmetic dentistry in Boston. then now is the time to schedule an appointment with Dental Partners of Boston. Our team of dentists looks forward to working with you to create the smile of your dreams.