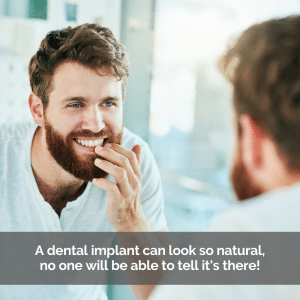 The removal of a natural tooth may be necessary following an accident or injury, sometimes following an illness. Many patient's main worry with tooth removal is their appearance. They worry if the gap will show in their smile, affect their speech or their ability to eat certain foods. Luckily, when you have dental implants to replace the missing teeth, no one will notice it's not your natural teeth. And that includes you! A dental implant or implants look and feel just like natural teeth. You can eat, talk, and smile freely.
What Is A Dental Implant?
Dental implants are a popular way to replace missing teeth. They're an effective, long-term solution designed to blend in with your other teeth. A dental implant has been one of the biggest advances in dentistry over the last forty years.
The implants themselves are made of titanium and a mixture of other materials compatible with the human body. The implant functions as a sturdy anchor for a crown that looks as good as a natural tooth.
What To Expect
When you come in for a dental implant, you will have experts explain the process to you during your consultation. We understand the importance to patients of understanding each step in the process. You will have opportunities to ask all your questions and get thorough answers.
First, we will schedule a consultation with you so we can understand your individual case. We will perform an examination and discuss recommendations. Sometimes, we will want to consider options with the other dentists in our office so we can give you the best solutions. We'll have you return to the office and talk with you about the best solution. It's at this point that we will carefully go over what you can expect during the extraction, healing process, implant placement, and crown placement.
We understand that patients can often feel nervous about getting dental implants. Please talk to us about any concerns you feel before any procedure. We have sedation options to help you feel comfortable, but you'll find a lot of reassurance knowing what the process entails. We welcome all your questions.
Dental Partners Of Boston For Invisible Tooth Replacements
Getting a dental implant that completely satisfies you is what we do at Dental Partners of Boston. There is no need to hide your smile, even if the replacement tooth is one of your two front teeth. It will be similar in shape, size, color, and best of all, it will feel like it's your real tooth. You may even forget it's there.
If you are ready to ask about getting a dental implant, please give us a call today or schedule an appointment online. We look forward to welcoming you to our practice.