Gum disease results when the tissue on the surface of the gum becomes inflamed. The waste products of bacteria cause plaque that irritates the gums. At first, the damage is microscopic, but it can grow over time causing changes to the gums. Inflammed gums can bleed when you brush your teeth. Gingivitis is a mild form of periodontal disease and is reversible. Periodontal disease is more serious because the bacteria start to attack the bone and gum tissue that surround the teeth.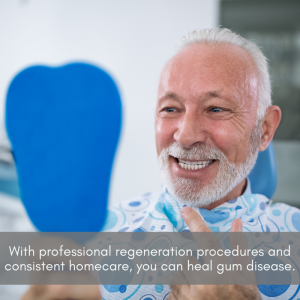 What Damage Can Gum Disease Cause?
Gum disease can cause a lot of damage to the gum and to the structures that hold the teeth in place, leading to tooth loss and sometimes a loss of bone in the jaw and skull. Bacterium gets into pockets in the gumline and lives in the moist warm environment. It churns out a variety of harmful byproducts which slowly eat away at the surrounding tissue.
The health consequences of gum disease go beyond the mouth. Gingivitis and periodontal disease are both associated with an increased risk of heart attack, poor diabetes control, an increased risk of stroke, and rheumatoid arthritis. Researchers believe that gum disease leads to systemic inflammation which, in turn, leads to greater pathology over the long term.
Signs You Might Have Gum Disease
There are several signs you might have gum disease.
Red/swollen gums after brushing or flossing
Bleeding gums while eating or after brushing
Pus between your gums
Bad breath
Receding gums that are moving back from the teeth line
Loose teeth
Persistent sores in your mouth
Often you can have quite advanced symptoms of gum disease and not feel any pain. If you brush and regularly spit blood, then it could be a sign that your gums are inflamed or damaged by bacteria and require dental treatment.
Why Choose Professional Tissue Regeneration Procedures?
Gum disease is a serious medical condition that can have other effects on the rest of your health. It's therefore vital to remedy any issues as soon as they become apparent.
Professional regeneration procedures, like the pinhole surgical technique and LANAP therapy, are often necessary if you notice any of the symptoms described above. Waiting for the problem to go away will usually only result in it getting worse. Bacteria will become more established, penetrate further into the gum, and may lead to severe periodontal disease.
Pinhole Surgical Technique
The pinhole surgical technique is a procedure that dental professionals use to help restore the gum line if it has receded. Dr. Guzman makes a small incision in the gum above the affected tooth and then uses a proprietary tool to push down on the gum tissue to reverse the root exposure. Small collagen strips are then inserted to hold the gum in place in the new position.
LANAP Laser Gum Surgery
LANAP is a special laser technique that helps to remove sections of infected gum surface tissue that has separated from the roots of the surrounding teeth. Dr. Guzman then removes all the bacteria using an ultrasonic scaler and then a laser. The gum is then better able to heal itself naturally over time.
Schedule An Appointment Today
Home remedies won't work: only with treatment AND consistent home care will you be able to heal gum disease. If you have any of the symptoms mentioned above it is time to schedule an appointment with Dental Partners of Boston to treat your gum disease, and bring back your beautiful smile.