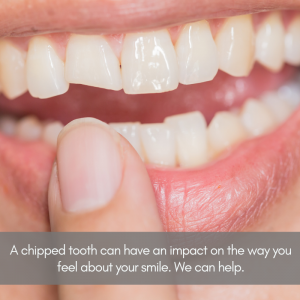 Your smile is your ticket to happy, successful relationships, whether at work or in your personal life. But when you have a chipped tooth, it can impact your self-image and confidence.
How A Chipped Tooth Can Affect Your Self-Image
A chipped tooth, whether as a result of injury or wear-and-tear, can have a significant impact on the way you feel about your smile. Chipped teeth, especially those at the front, can be highly visible and distract other people when talking to you.
Chipped teeth, however, can affect you in other ways, besides making you feel less confident. A chipped tooth can irritate the surrounding gum, due to sharp edges. It can also hurt your tongue while talking, eating, and sleeping. You can also experience pain while chewing and drinking because of pressure and temperature changes that affect the nerve.
Fixing a chipped tooth is an excellent idea. Even fixing a small chip in a front tooth can make a profound difference to the way that you smile, talk and interact with others.
How Do You Know If You Have A Chipped Tooth?
Finding out whether you have a chipped tooth is easy. You will see or feel a larger chip. For smaller chips, visit Dental Partners of Boston to inspect your mouth for evidence of a chip. They will also try to determine what might have caused the chip if the reason is not apparent.
Treatments For A Chipped Tooth
How Dental Partners of Boston treats your chipped tooth depends on the location and severity of the chip.
Tooth Reattachment
If you have the piece of your tooth that chipped off, dentists will often be able to reattach it using special adhesives. If you have the dental fragment, keep it in a glass of milk to keep it alive.
Dental Crown
A crown or a dental onlay is a popular technique for repairing a chipped tooth. The dentist will take a mold of your teeth, and then send it off to the lab for an onlay to be created. The dentist then fits the onlay or crown with cement.
Dental Veneers
Sometimes, the best option is to use a dental veneer – a thin piece of porcelain that sits on top of the affected tooth, restoring its shape and color. To place the veneer, the dentist will remove a thin strip of enamel from the surface of the tooth and then cement the veneer in place.
Single Tooth Dental Implant
Single tooth dental implants are best for when the chip is, or the tooth cannot be fixed using other methods.
Tooth-colored Filling
Sometimes a simple tooth-colored filling is all you need to repair the damage. It's quick and easy.
If you have a chipped tooth, then get in touch with us today for a consultation. We can see if a tooth-colored filling will fix the chip, or if the tooth is broken.
Speak to us about restoring both the function of your tooth AND its looks with options like a crown, dental veneers, or even a single-tooth dental implant.