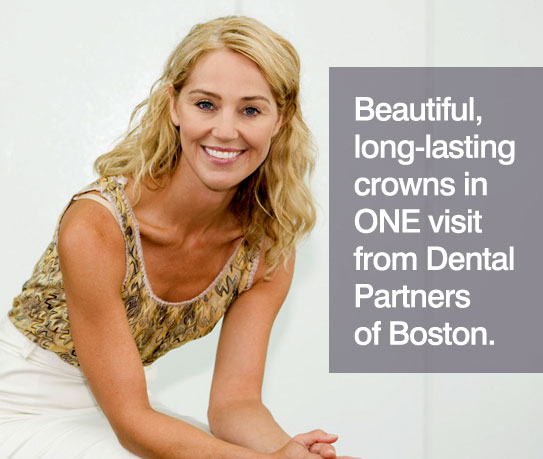 DENTAL CROWNS, OR CAPS, ARE OFTEN THE PERFECT SOLUTION for misshaped, misaligned, or discolored teeth. However, not all crowns are created equal. Some can be a slightly different color than the rest of your teeth, or even leave unattractive black lines by your gums. Others may not be as strong, long-lasting, or life-like as one would hope.
Fortunately, here at Dental Partners of Boston you can set your fears about low-quality dental crowns aside and rest assured that you will receive the best treatment available!  Our doctors' skill at crafting beautiful, comfortable, and long-lasting dental crowns makes our practice second to none, and we offer a few different options to fit your specific needs!
Our special all-porcelain dental crowns are guaranteed to add beauty to your smile. And, thanks to our advanced Cerec® 3D technology, you don't even have to wait for your crowns to be sent out to a laboratory for molding. We will create them here at our office in just one visit while you wait!
Today, many of our patients are also interested in crowns that don't include metal or other alloys. That's why Dental Partners of Boston happens to be one of the few unique practices to offer Procera® AllCeram crowns. These specialized crowns consist of a dense all-ceramic material that gives your new tooth a natural shine.
To learn more about how our top-quality dental crowns can improve your smile, contact our office today! We'd love to go over your options with you.