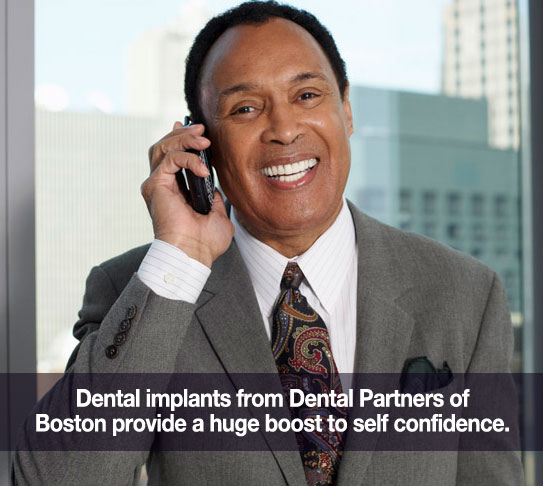 ARE SOME TEETH MISSING FROM YOUR SMILE? Don't despair—we have the solution you have been looking for. Here at Dental Partners of Boston, we offer state of the art implant technology, giving you the option to go from an incomplete smile to a perfect one in just one treatment session! 
With conventional implant treatment, you have to wait 4-6 months for your implants to heal before your new teeth can be placed. That's quite a long time to walk around with temporary teeth in your mouth! Here at Dental Partners of Boston we can give you your new teeth right away! And we have some good news—this new and innovative procedure has been proven to be effective in over 96% of all patients treated.
There are quite a few benefits of osseointegrated implants besides the obvious shorter treatment time and minimized pain. You will have a fixed smile immediately, you get to by-pass the uncomfortable removable prosthesis, your new tooth will be remarkably strong & stable, the esthetics are improved, and your individual self-image will sky-rocket!
Our specialized doctors have completed over 10,000 osseointegrated dental implant cases, making our practice one of the leading centers for this procedure in all of New England. There's no need to worry—you will be in the best of hands. So, if you are curious whether or not these immediate implants are right for you, set up a consultation with us! We would love to go through your options with you. Lets fill in those gaps in your smile!!