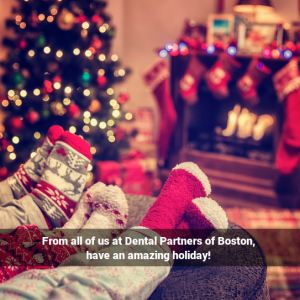 From songs to sweets, the holidays are filled with fun holiday surprises, time with family and friends, and snowy days that remind us of childhood. We want to wish all of our loyal patients a wonderful holiday, and we want you to know how much we appreciate your business. We love visiting with you and helping you to make your smile look and feel perfect.
We also want to acknowledge our dedicated staff. Our practice wouldn't be what it is today without you. We know how much you care about our patients and our practice, and we want you to know that we couldn't do it without you.
Avoiding Dental Disasters During the Holidays
As a practice that offers everything from advanced periodontal and surgical treatment to basic preventive dentistry services, we are well prepared to handle any dental emergency that comes our way this holiday season. If you need immediate treatment, don't hesitate to contact us as usual.
To keep your teeth and gums healthy and comfortable during the holidays, try to stay away from foods that could damage your teeth. For example, popcorn kernels, partially un-cracked nuts, and even hidden bones in meats can cause chipped teeth, dental fractures, and damaged dental work. If you're concerned about keeping your teeth white and beautiful, stay away from heavily dyed or pigmented foods, such as dark berries, holiday punch, and brightly-colored frosting. During the holiday season, there are also a lot of hidden red dyes in things like candies and cakes, which is why staying away from the sweets could help to preserve your whitening efforts.
Finally, keep an eye on your sugar consumption to stave off plaque and tartar buildup. The bacteria that live in your mouth create acids as they consume simple sugars, causing dental decay.
Schedule a Cleaning
If you really want to look after your smile, schedule a preventive care visit to have your teeth cleaned, polished, and inspected. Pre- and post-holiday exams can give you the chance to have dental decay and cavities repaired before your schedule picks up for the new year. Contact your Boston dentist as soon as possible to schedule your next checkup. The Dental Partners of Boston are here to help, and we want your holiday season to be filled with happiness.