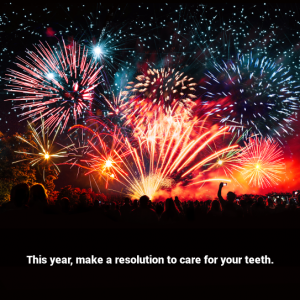 The New Year is swiftly approaching, and you probably have a few resolutions you want to keep for 2017. We at Dental Partners of Boston want to wish you a very happy holiday season and encourage you to make one of your resolutions caring for your smile.
In addition to helping you feel more confident about yourself, healthy, beautiful teeth have also been shown to help people make better first impressions, eat comfortably, and preserve overall health. Dental health is essential, especially since gum disease and periodontal disease have been tied to systemic illnesses like heart disease and even cancer. By keeping your mouth healthy, you can help the rest of your body to stay that way.
Dental Care Tips For A New Year
Are you wondering where to start when it comes to keeping your smile healthier in 2017? Make an appointment to talk about your dental health. Our dentists in Boston, MA can treat a wide variety of dental problems, ranging from basic dental fillings and crowns to the complex treatment of gum disease. In addition, there's a lot you can do at home to keep your teeth healthier. Here are just a few ideas.
Evaluate Your Daily Habits
Think carefully about your daily dental habits, including brushing, flossing, rinsing, and wearing orthodontic appliances. Focus on honing your habits, by setting timers on your phone or making a schedule for wearing your retainer. Small changes can make a big difference.
Use A Straw
If you like to sip acidic, sugary soda or heavily pigmented juices, use a straw. Doing something as simple as grabbing a straw and using it to drink your beverages can keep sugar, dyes, and acids from coming into contact with the front of your teeth—helping them to stay clean, white, and healthy.
Stop Smoking
In addition to leaving behind a tarry film on your teeth, smoking also makes it hard for your gingival tissues to heal and introduces new bacteria to the area. If you smoke, stopping is a great step to keep your teeth and gums healthier.
For more information about improving your dental care habits, talk with one of our Boston dentists today.