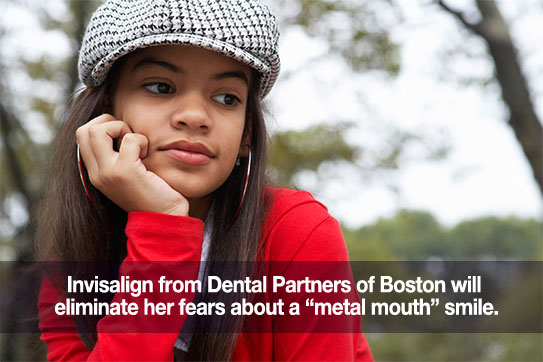 DO YOU HAVE PRE-TEENS IN YOUR HOUSEHOLD right now? And are you in the middle of trying to make the best decision about straightening their teeth? Perhaps you should be considering Invisalign from Dental Partners of Boston as one of your options!
Invisalign Advantages For Your Child
Of course, as with any dental-related treatment, there's never a universal "right answer" for every person. However, in many cases, Invisalign is the perfect solution for your son or daughter. Here are just a few things to consider:
Invisalign braces are nearly invisible. You KNOW how self-conscious they are!
Maintain better oral hygiene. Remove them to easily brush and floss.
They're cost-effective. We'll outline Invisalign's great value for you.
They're more comfortable. Less irritation to gums and cheeks.
Your child can eat the foods he or she enjoys. You know how kids are!
Invisalign Is Often An Optimal Solution
Invisalign's clear aligners provide the best of both worlds. Not only do they straighten your child's teeth like regular braces, but they also allow your son or daughter to maintain a confident smile during treatment—without all that metal.
Your Child Can Learn More From Invisalign Teen's Facebook Page
Invisalign Teen has a Facebook page where other teens have shared their experiences with Invisalign. Have your son or daughter learn more about it. By doing so, you don't have to "nag" all the time. They're on the same page—and that makes completing treatment a lot less stressful for your relationship.
Let Us Help You Decide What's Best For Your Child
Let our Invisalign experts here at Dental Partners of Boston help you make this important decision about the best method for straightening your child's teeth. You can trust our recommendations. We only want the very best solution for you and your family. Bring your teen in with you for a consultation. We want to directly answer all of his or her questions—in addition to yours.
If You Have Questions…
Leave us a comment below if you have any questions, OR you're always welcome to send us a private message on our Facebook page. We'll respond quickly. And, thanks for being our valued patients and friends. We appreciate the trust you place in our practice.