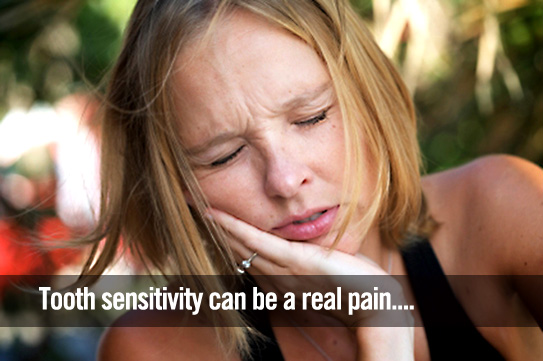 READY TO REVIEW A "SENSITIVE" SUBJECT? A sensitive "teeth" topic, that is…
Here at Dental Partners of Boston, we realize that this isn't an ongoing problem for a lot of our patients. However, it is for some. And, it's almost certainly a periodic problem for most people.
Our doctors remind us, "Tooth sensitivity can come from many things including sweet or sour foods and hot or cold temperatures. For some, simply biting down can hurt. The resulting pain can be mild to severe—and sometimes very sharp, shooting directly to tooth nerve endings."
Regardless of the level of pain, tooth sensitivity is not pleasant. If the pain is long-lasting or severe, you should probably make an appointment to visit us. If the pain is minor and/or very occasional, here are a few basic things you can do to help prevent sensitivity:
Proper Brushing
Keeping up great oral hygiene prevents tartar buildup. This helps reduce the risk of exposing nerves. Using a soft-bristled toothbrush causes less abrasion and reduces potential gum recession. There are also several brands of toothpaste that, with regular use, help decrease sensitivity.
Fluoridated Mouthwashes
Daily use of fluoridated mouthwash can decrease sensitivity.
Avoid Highly Acidic Foods And Drinks
Highly acidic foods and drinks can contribute to the dissolving of tooth enamel, which in turn can increase can sensitivity. Limit such items—including many sports drinks. It can also help to rinse your mouth with water after eating or drinking acidic items.
Don't Clinch Or Grind Your Teeth
Teeth grinding and clenching can also lead to enamel wear, which can cause sensitivity (and a host of other problems). Visit with one of our doctors if you suspect this is a problem you need help with.
As always… Our sincere thanks for the trust you place in our practice. Here at Dental Partners of Boston, we want to be your greatest information resource for preventing and solving tooth sensitivity issues.
Here's a short video you'll enjoy about this topic.
We look forward to seeing you during your next visit!
Don't forget to take a moment to like our Facebook page!