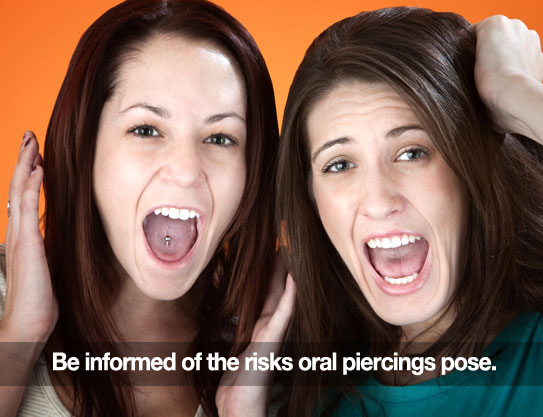 AS YOUR ORAL HEALTH EXPERTS, it's our job to ensure that your whole mouth stays healthy. And on that note, we have something to say about oral piercings: they're usually more trouble than they're worth!
In the years that we've practiced general dentistry in Boston, we've had to deal with the side effects of oral piercings. We want to make sure that our patients have all the facts before they jump in. So consider these factors:
1. You're At High Risk For Cracks And Chips
Hard metal in your mouth can pose a serious risk for teeth and dental work. This is especially important to remember when you're playing sports. Always take out your ring or stud and put in your mouthguard when you're on the field or the court.
2. Metal Constantly Abrades Teeth And Gums
The repeated contact can wear down your tooth enamel more than you think. This leaves you very vulnerable to sensitivity, decay, and yellowing teeth.
The constant rubbing will also irritate your gums, and this can cause your gums to recede. In turn, this may cause your teeth to become loose, or even fall out.
3. A Tongue Ring Or Stud Harbors Bacteria
Not only is it unhealthy to have built-up bacteria in your mouth, it can also contribute to major bad breath. Your tongue really needs to stay clean. If you do have a piercing, make sure that you take out and clean the stud or ring frequently and keep the area around it clean and sanitary.
4. The Risks Go Further
The potential issues go beyond dental care, including permanent nerve damage, speech impediment, and continuous discomfort. Some problems are just awkward and annoying, and some can pose real risks to your health.
So think twice before getting a piercing! In fact, if you want to bring some attention to your smile, may we suggest that you look into tooth whitening? And let us know if you have any questions about your health. You can comment below, or we can talk about it at your next cleaning appointment.
Thanks for your trust in our practice. We appreciate you!