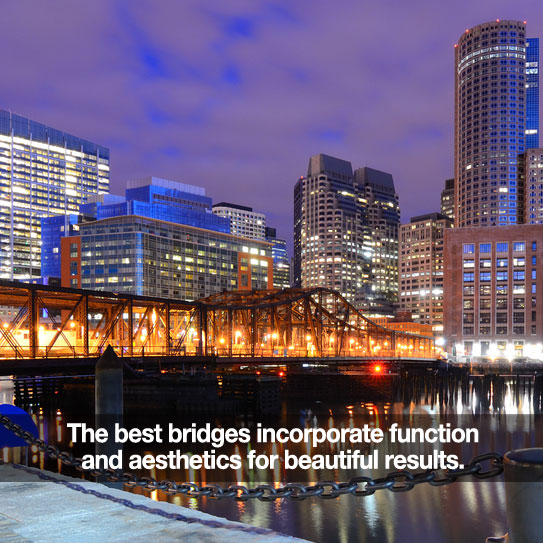 UNFORTUNATELY, ACCIDENTS HAPPEN ALL THE TIME. These accidents sometimes cause serious damage, causing us to lose a tooth, or damaging it beyond repair.  In these cases a dental bridge from Dental Partners of Boston is a great option to repair the damage.
A dental bridge is exactly what it sounds like. It bridges the gaps between teeth. A traditional bridge is made up of a filler tooth that is attached to a crown on each side.
Dental Bridges Can Improve Your Dental Health
There are several advantages to getting a dental bridge. A dental bridge helps hide the damage that was done to the teeth. Besides having aesthetic value, a bridge also helps maintain dental health. A bridge keeps teeth from drifting. Drifting teeth can lead to serious issues like periodontal disease. Bridges also help restore the ability to chew and speak properly in some cases.
Dental Partners Of Boston Makes The Process Easy
Dental bridges take a few steps to place. The first step is to prep the teeth around the area where the bridge will be placed. This may require shaping the teeth on either side. Then, impressions are taken and a dental bridge is created. After the bridge is created the dentist will check to make sure the dental bridge is fitting correctly. If it feels perfectly comfortable and functional, it is then cemented into place.
If you think you may be in need of dental bridge please call and make an appointment today. Here at Dental Partners of Boston we have many qualified, experienced doctors that can give you excellent dental care. 
Thank you for trusting us with your dental health.