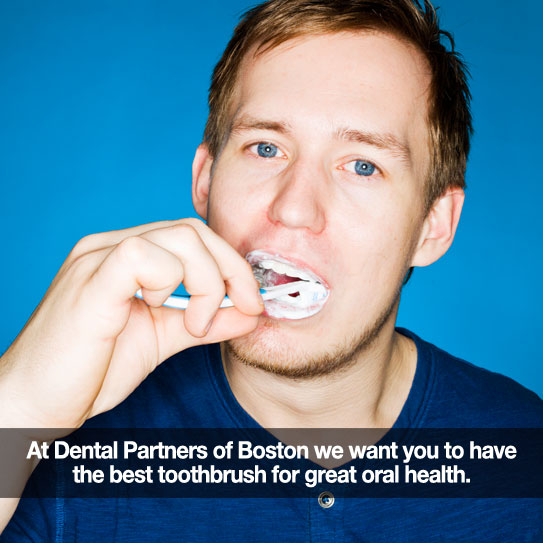 WITH SO MANY OPTIONS at the store, buying a new toothbrush can feel overwhelming. And so, to help you make a more informed (and hopefully quicker) decision, we—your team over here at Dental Partners of Boston—have decided to go over some toothbrush basics.
When To Replace Your Brush
The ADA suggests replacing your toothbrush every 3 – 4 months. That being said, worn toothbrushes are less effective at cleaning your smile, so don't wait that long if the bristles on your brush become frayed earlier!
Shape and Size
The handle of your toothbrush should be easy and comfortable to hold. Select your toothbrush head with accessibility in mind. You'll want a head that makes it easy to reach all surfaces of your teeth—even those hard-to-reach back teeth.
Hard or Soft Bristles?
Since hard-bristled brushes are more likely to damage your gums and the soft enamel of your teeth (especially if you're brushing too hard), most dental professionals suggest using a soft-bristled brush. If used correctly, soft-bristled brushes can effectively, comfortably, and safely clean your teeth.
Do Expert Recommendations Matter?
If you want a toothbrush that's undergone quality control tests, then yes, reviews matter. At Dental Partners of Boston, we are more than happy to recommend a great toothbrush, or you could look for one that has earned the American Dental Association Seal of Approval.
Talk To Us!
Perhaps the easiest and quickest thing you could do to find a toothbrush that's just right for you is TALK TO US. We deal with oral hygiene every day, all year, and we love talking about it! We want you to have the best tools available to maintain your good oral health!
We're happy to be your oral health care partners. Thanks for your trust.