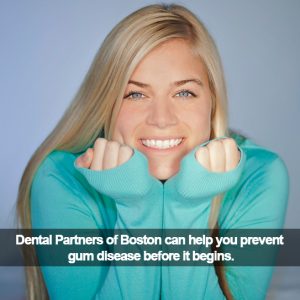 When most people think about their dental health, they only think about what they see, as opposed to what those symptoms might mean for your overall health. Your dental health matters, and not just because a healthy, beautiful smile can improve your self-esteem.
More than 120 serious diseases cause specific symptoms inside the mouth, which is why your dental health is essential to your overall health and well-being. With a simple dental checkup, the Dental Partners of Boston might be able to see the early signs of diabetes, acid reflux, rheumatoid arthritis, Crohn's disease, and even heart disease. Also, since gingivitis and periodontal disease can increase inflammation throughout your entire body, early detection might help you to avoid health problems such as endocarditis and Alzheimer's Disease.
Dental Health vs. Disease Care
Any dentist can fill a cavity or treat a dental abscess, but wouldn't you like to know how to avoid those kinds of problems in the future? Unlike some practices, the Dental Partners of Boston focus on overall dental health, versus simple disease care. Here are the three basic tiers of disease treatment, and how the Dental Partners of Boston can help you to achieve the smile of your dreams.
Primary Care
Primary prevention and dental care involve educating the patient, controlling plaque and tartar, and carefully examining the mouth for existing problems. Primary care is important because it helps clean, healthy mouths to stay that way.
Secondary Care
Secondary care involves stopping disease in its tracks through swift, yet thoughtful, actions. For example, if one of our doctors finds that you have an untreated cavity or an oral fracture, your teeth will be examined and treated. Secondary prevention also focuses on limiting the potential for future problems through orthodontic care or periodontal treatment. For example, if your bite is off and it could lead to improper dental erosion, orthodontic treatments might be recommended to keep your teeth safe. 
Tertiary Care
Tertiary care involves rejuvenating and reconstruction parts of your teeth and mouth that have fallen victim to dental disease. Unlike basic disease treatment, tertiary care can bring your mouth back to life. After patients have undergone tertiary care, such as receiving dental implants or undergoing complex endodontic treatments, they can enjoy a newfound sense of dental health, since their teeth will be disease-free, comfortable, and beautiful.
How The Dental Partners of Boston Can Help
The Dental Partners of Boston combine primary prevention, secondary care, and tertiary care to provide their patients with comprehensive, effective treatment. When you make an appointment with one of our dental professionals, you will enjoy a visit tailored to your oral health. After carefully evaluating your current dental situation, our professionals will work with you to create a customized dental health treatment plan.
Our goal is to provide each patient with a treatment plan that suits their lifestyle, their budget, and their dental goals. Our approach to overall dental health, as opposed to simply disease care, helps our patients to save money and live better. For example, because we try to address health issues, such as advanced decay, before we target cosmetic problems, like yellowed teeth, our patients can enjoy a smile that is comfortable and functional before they worry about cosmetic issues. Also, since simple restorations, such as fillings, are far less expensive than more complex restorations, such as crowns or dental implants, careful treatment planning can help you to budget for future dental procedures and save money.
Visit Our Office Today
For individualized service and proactive treatment from experienced dentists, make an appointment with the Dental Partners of Boston today! We are currently accepting new patients, and we would love the chance to get to know you.