At Dental P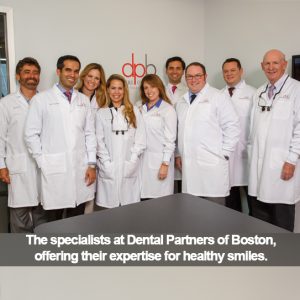 artners of Boston, we're proud to host some of Boston's top professionals in dental medicine. We've brought together a select group with varying qualifications so that we have an expert for any dental service that you may require. Check out the Doctors & Staff page on our website to see the specializations and qualifications that our dental experts bring to the practice. But what qualifications do those abbreviations indicate, and what do those qualifications tell you about our dentists' education and experience? Here's a translation:
D.M.D./D.D.S. – Doctor of Medicine in Dentistry or Doctor of Dental Surgery. These are the same degrees, and are earned after four years of undergraduate education followed by four more years of dental school. Before a dentist can practice, he or she must pass qualification and licensing exams, and throughout their careers must meet continuing education requirements to ensure that they stay abreast of all modern developments in dental science. These requirements are on par with those required for other types of doctors. Dr. Yael Frydman here at Dental Partners of Boston is a D.M.D. and specializes in orthodontics, or teeth-straightening services.
M.S.D. – Master of Dental Science. The degree is earned for specialized post-graduate training in a specific field of dentistry. Our own Dr. Sergio Guzman, for example, is a M.S.D. in Periodontics, or the study and care of the gum tissues and supportive bone structures of the mouth and jaw.
C.A.G.S. – Certificate of Advanced Graduate Study. This certification is earned by an advanced post-graduate program that focuses on developing clinical care skills in a specific area of dentistry. C.A.G.S. programs are tailored to ensure that recipients are experts in the practice of specialized dentistry. At Dental Partners of Boston, Dr. Carolina Mujica and Dr. Maria Cardenas each have a C.A.G.S. in restorative dentistry, which deals with cosmetic dentistry needs for those who have damaged teeth, jaws or faces. Dr. Gustavo Infante has a C.A.G.S. in prosthodontics, which makes him a specialist in attaching dental implants for missing teeth.
M.M.Sc. – Master of Medical Science. These are advanced post-graduate programs focusing on the development of clinical and research/training skills – in other words, creating dentists that are both experts and giving dental care and also highly knowledgeable in their specialized aspect of dental care. We at Dental Partners of Boston have three recipients of this special qualification: Dr. Michael G. O'Toole, and Dr. Priyank Taneja. All three specialize in prosthodontics, or the making and attaching of dental implants.
M.Sc.D. – Master of Science in Dentistry. Similar to the M.S.D. above, this degree indicates post-graduate training in a specialized field of dentistry. Our own Dr. Barry Goldberg possesses a M.Sc.D. in endodontics, making him an expert in the dental pulp, or the sensitive tissues in the center of the tooth. He treats damaged teeth with root canal therapy and other similar techniques.
At Dental Partners of Boston, we've brought together a wide variety of some of Boston's top dentists. Contact us or visit our website to see how we can bring our expertise to bear to help you with your specific dental needs.