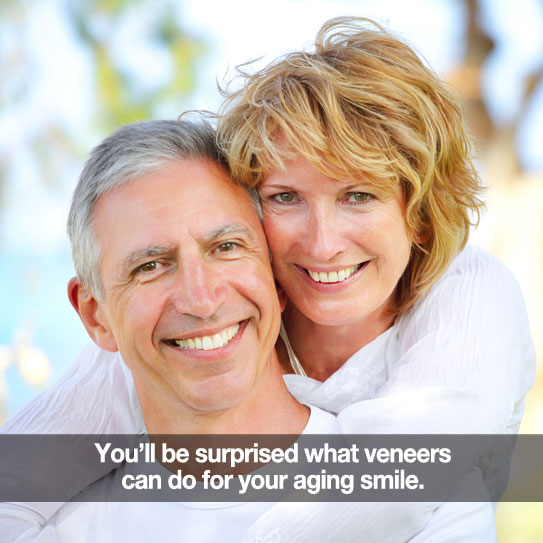 Is your smiling looking tired and worn down? Maybe it's time to think about cosmetic dentistry from Dental Partners of Boston. Think about the perks that come from being proud of your smile: being glad to smile in pictures again… having confidence when you meet new people… that glow of satisfaction when you smile at yourself in the mirror each morning.
It's easier than you think to rejuvenate an aging smile. And you'll be amazed at the results.
Our Lumineers Are Non-Invasive, Natural-Looking, And Effective
We have options for minimal-prep, non-invasive veneers that give you beautiful results.
Learn more about Lumineers on our website.
How Can Veneers Renew Your Smile?
Eliminate Stains
Some discoloration happens to all of our teeth as we age. Since this is often a result of thinning enamel, a simple whitening procedure may not give you the results you want. Veneers will bring a glow to your smile. But, thanks to our experienced cosmetic dentists' training, we'll carefully plan the shade to match your face, giving you a natural look.
Smooth Worn, Misshapen, Or Chipped Teeth
Life knocks us all around a bit. And since our teeth don't regrow, or repair themselves, you may simply be left with little chips and cracks that give away your age. But veneers can restore the shape of your teeth, giving your smile a balanced, more youthful look.
Add Supportive Volume To Your Face
This is the most surprising change for most people. Veneers (depending on how we shape and plan them) can add supportive volume to your smile. As we age, our teeth wear down, both on the surface, and on the chewing edge. Lowered volume in both these places can make your smile look collapsed-in. But if we can add volume to your teeth, it will fill out your face better. It can even take away the appearance of aging lines around your mouth.
Take care of your smile – it's an important asset.
Curious? Talk to us about what veneers can do for your smile.
Thanks for your trust in our practice. We appreciate you!