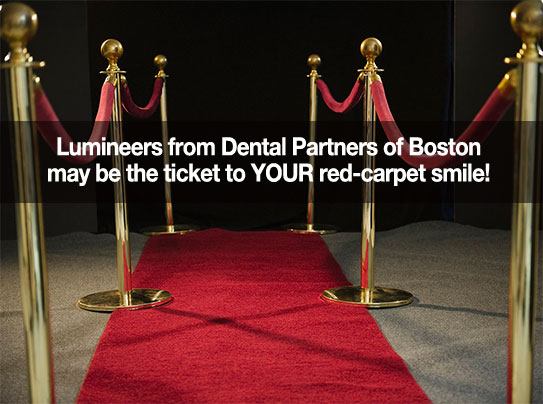 SEEN ANY GOOD SUMMER MOVIES LATELY? What's more exciting: explosions or fantastic celebrity smiles? For us, it's all about the smiles. And here at Dental Partners of Boston, we know the secret to those perfect grins.
Small things can keep you from your Hollywood smile. Things like discoloration, wide spacing, or misshapen teeth get in the way. If you've wished for a change, but you thought that it might be too invasive and painful, it might be time to check out Lumineers.
Veneers can improve the appearance of your smile by covering stains or chips. The worry with veneers is that it can be a big process, sometimes requiring your teeth to be shaved down to accommodate the caps.
But check it out- we have an easier alternative!  Lumineers porcelain veneers are super-thin (think contact-lenses-thin), so they don't need a whole lot of extra space. They just slide over your teeth to create that perfectly aligned smile you've always wanted.
Three Quick Steps: 
First, we take an imprint of your teeth so we can create your custom-fitted Lumineers.
Second, while Lumineers are in production, we make small and non-invasive adjustments to your teeth to make sure they fit perfectly.
Third, you come into the office and we bond the Lumineers to your natural teeth.
We can even slip Lumineers over existing crowns and bridgework. They're permanent, so you don't have to worry about getting them touched up or adjusted later.
Would you like to talk about Lumineers? We're here to make sure you feel happy and confident about your smile. Call us for a smile consultation to discuss your options. We promise that our first concern will be your health and your happiness.
We value the trust you place in our practice. If you have any questions or concerns, don't hesitate to ask!