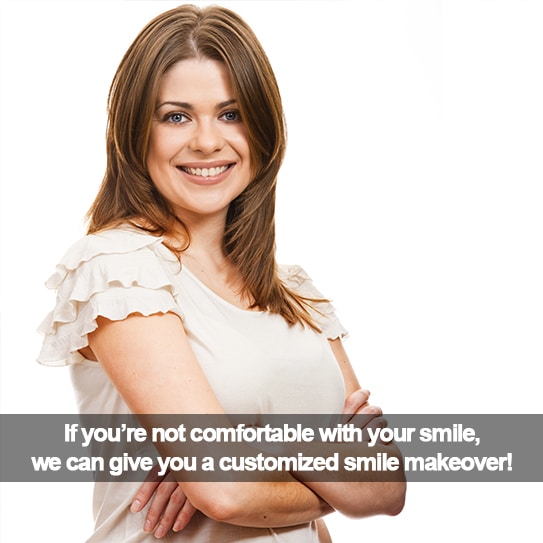 FROM TIME TO TIME, we all like to give ourselves a makeover. Whether that is with a new haircut or a new wardrobe, there are plenty of makeover options out there for all of us. Doesn't your smile deserve the makeover treatment as well?
Many of our patients come to us with stories about how they're unhappy with their smiles. Some people find that their teeth are too crooked or that their teeth are discolored. There are a wide variety of cosmetic imperfections out there that are patients come to us with. A cosmetic imperfection might hold someone back from sharing their beautiful smile with the world because of self-consciousness.
We at Dental Partners of Boston believe that a smile makeover can help a patient become comfortable with their smile again. The smile makeover process is customized for each of our patients and it is geared to your specific needs. We want to help you achieve a healthy smile that you're comfortable with. Here is the four step makeover process we have available to our patients!
1. Teeth Whitening
The first step to a smile makeover is ensuring that all teeth discoloration is removed and that your teeth are restored to their natural white sheen. Through our BriteSmile and Zoom! teeth whitening services, we will be able to provide an in-office or at-home solution to patients seeking out teeth whitening. Our trained team has experience in measuring out the exact dosage of whitening material to ensure that your smile is natural looking.
2. Porcelain Veneers
Porcelain dental veneers is a great way to conceal any misaligned, stained, injured, or chipped teeth. These dental veneers are customized for your mouth and will slide right over your normal teeth. This will ultimately provide a long lasting, easy, and natural looking cosmetic solution for patients with damaged teeth.
3. Adult Orthodontics and Invisalign
Orthodontics aren't just for kids and teenagers; they're for adults too! Teeth that are too crowded or a bad bite can result in embarrassment when you smile. As such, we offer adult orthodontic treatments like Invisalign to help straighten out your teeth. Invisalign is a system of convenient, transparent aligners that perform the same function as braces; except without all the metal bands and wires!
4. Dental Restorations
A dental restoration is a more extreme smile makeover option that is used for patients who're missing their teeth. The goal of a dental restoration is to restore the chewing, conversing, and smiling function of your smile again. This can be achieved through dental implants or other restoration options.
Start Smiling Again!
At Dental Partners of Boston, we believe that nothing should hold you back from sharing your smile with the world. Through our smile makeover process, we will ensure that you are happy with your healthy smile and that you're sharing your pearly whites again with the rest of the world. Your smile says a lot about you; shouldn't you start smiling again and showing off the real you? If you have any questions about smile makeovers, please reach out and contact s with them! Comment below to show your own smile makeover experiences with others.
You are important to us; we really value you! We would like to thank you for being great patients and friends. Please call us today for a smile makeover consultation!