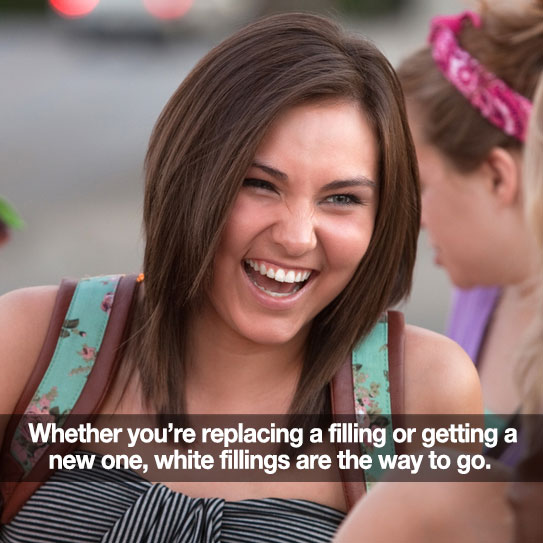 WITH ALL THE ADVANCES of modern dentistry, it's surprising that an ancient technology like metal fillings is still so commonly used today!
We at Dental Partners of Boston are proud to offer a better option. New porcelain and composite resin fillings are natural-looking, healthier for teeth, and pain-free. Here are five reasons you should consider these white fillings for your next restoration:
1. The Application Requires Less Drilling
Traditional metal amalgam fillings require drilling a retentive fitting to hold them in place, removing healthy parts of the tooth and making them more likely to fracture. White fillings bond directly with the tooth, eliminating the need for unnecessary drilling.
2. The Process Is Pain-Free
We take our commitment to minimize discomfort during procedures very seriously, and white fillings help us accomplish that goal. Our simple process of applying, sculpting, and curing the filling is virtually pain free and reduces downtime.
3. White Fillings Mimic The Structure Of A Natural Tooth
Metal fillings are strong, but stiff, and make teeth more susceptible to cracking. White fillings are strong and slightly flexible, able to absorb and transfer bite force as a normal tooth would.
4. The Filling Blends In With Your Natural Teeth
Until recently, having a cavity filled meant a very noticeable and unattractive bit of metal in your mouth. Now, we can match the color of white fillings to provide a natural look that blends better with your teeth.
5. White Fillings Are Healthier For Teeth, Long Term
White fillings support and strengthen the tooth's structure, and also form a protective seal around the cavity to prevent bacteria from causing further decay.
We invite you to sit down with us and find out how white fillings can play a key part in your smile restoration!
Better Living Through Dentistry
At Dental Partners of Boston, we want to show you how the latest in dental technology can benefit your life. Our mission is to give every one of our patients the bright, confident smile they've always wanted.
Thanks for being our valued patient and friend!