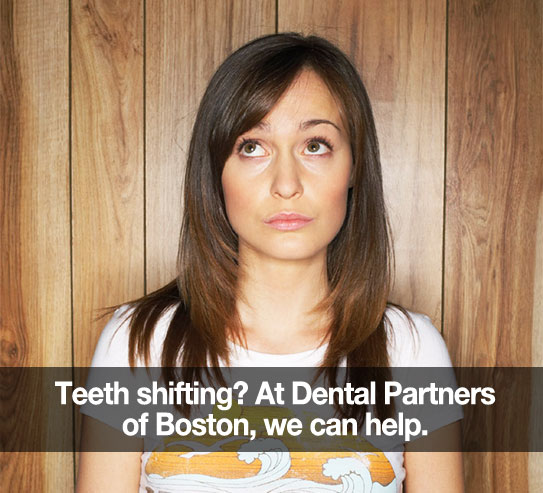 YOU ALREADY WENT THROUGH THE PAIN and discomfort of braces as a teen. So why on earth are your teeth shifting and giving you trouble NOW?
Here at Dental Partners of Boston, we know shifting teeth can happen later in life. This can be from a number of causes.
1. You're Still Growing
It's fairly common for teeth to grow more in your late 20s. It's genetic and often shows up as crowding in your front lower teeth. Your jaw may also be growing and changing shape, causing extra spacing.
2. Natural Shifting Happens Throughout Your Life
There's a tiny amount of shifting that happens throughout your life. Your bone density, lifestyle, and habits are changing and so is your bite.
3. Periodontal Disease
Weakened gums don't have the same power to hold your teeth in place. Periodontal disease is bad news, but it can be contained. Ask us about deep cleaning and what you can do at home to stop gum disease.
4. You're Missing A Tooth
When one tooth is absent, the others move in to cover the space. Implants are a permanent solution to this problem, but we also offer crowns and bridges to keep all your teeth in place.
5. Tooth Grinding
If you grind your teeth at night, it's wearing them down and putting pressure on your jaw. A night guard for your mouth can take off the strain.
If you can feel your teeth shifting, talk to us about it. We may be able to find an easy solution to stop the drift.
If your teeth have shifted to the point where some remedial work is necessary or desired, we have great options for correction. For one thing, we are a preferred provider of Invisalign, which allows you to straighten your teeth without revisiting the metal wires.
And if you're brand new to orthodontics, have no fear. 1 in 5 orthodontic patients is an adult. Thanks to new methods and technology, more and more people are taking the opportunity to achieve that beautiful, straight smile. Request a smile consultation today.
Thanks for the trust you place in our practice. We love having you as a patient!