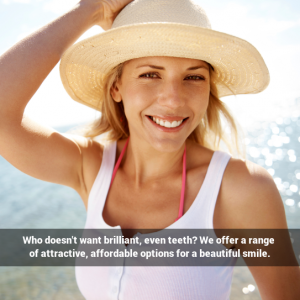 Your smile is one of the most noticeable aspects of your appearance. A bright, radiant smile has been proven through numerous studies to help a person feel more confident, have better social experiences, and even perform at a higher level during job interviews. 
Whether you're looking for a process as simple as teeth whitening, or you need crowns, dental implants, or veneers, the dentists here at Dental Partners of Boston strive to provide the best cosmetic dentistry service in Boston.
But how do you know when it's the right time for cosmetic dentistry procedures? That's the question we'll tackle today.
When to See A Cosmetic Dentist
There are many ways for a smile to be flawed, from chipped teeth to discoloration, missing teeth, gaps, and overcrowding. Our dentists are some of the best cosmetic dentists in Boston and have all the skills necessary to give you the smile you desire. When you have the problems mentioned, or any others, you should seek a consultation from a cosmetic dental specialist.
Dental Crowns
One of the most common procedures we offer is dental crowns. Surgio A. Guzman D.M.D., M.S.D. specializes in implant, esthetic, and reconstructive dentistry. Crowns fall right into his wheelhouse. They are essentially "caps" for your teeth, and can fix a number of tooth damage. For example, crowns fix discolored or chipped teeth, provide cover for a dental implant, support for a bridge, or cover up a filling that doesn't match the color of the surrounding teeth.
Tooth Contouring
Another procedure to fix crooked or overlapping teeth, or even to correct minor bite problems, is enamel shaping and contouring. Yael Frydman, D.M.D., has been practicing dentistry since 1998 and has all the skills necessary to perform this delicate procedure. Enamel contouring and shaping involves removing a small amount of the enamel on your teeth in order to make them look, fit, or bite together more efficiently. It's a process usually accompanied by dental bonding.
Dental Bridges
Dental bridges are another common form of cosmetic dentistry, used to replace missing teeth with artificial teeth. Bridges are anchored to surrounding teeth, then capped with crowns to look just like real teeth. However, as with every dental procedure, the success of your bridgework depends on your overall oral health. After having any of the above procedures completed, it's highly recommended that you adopt a strict oral hygiene routine in order to keep your oral health at a top level.
So if you feel that you're a candidate for cosmetic dentistry, contact us today to schedule a consultation. We are happy to help you achieve the smile you want.