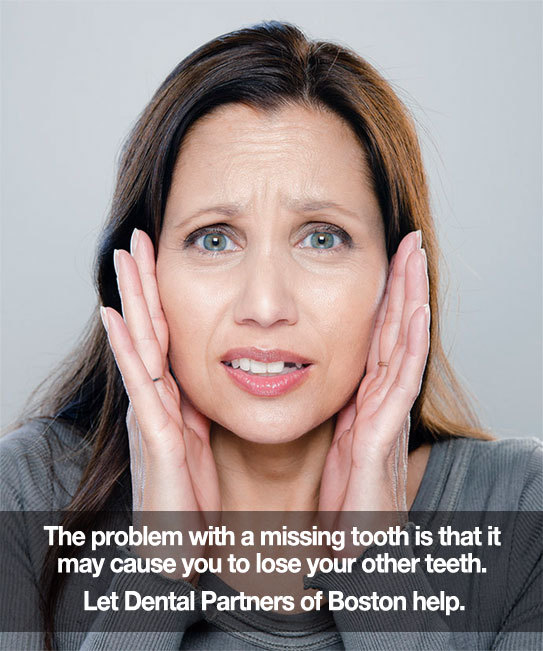 DENTAL IMPLANTS are commonly used to replace missing teeth. Despite their popularity, there are still some people that are hesitant to consider them as a treatment option. We've discovered that this is largely due to misinformation.
Here at Dental Partners of Boston, we hope to shed some light on the truth about dental implants.
Dental Implants Don't Have To Be Painful
With advances in technology, dental implant surgery has become much less invasive. The pre-surgery planning that modern day technology allows, makes each procedure more exact and helps to eliminate complications.
Safe and effective anesthetics and medication can also provide comfort and peace of mind. With them, pain not only can be well managed, it can often be avoided.
Dental Implants Look Like Real Teeth
Implants are titanium posts that are placed into the jawbone where teeth are missing—so implants alone don't look like real teeth. That being said, the crowns and bridges that are attached to and cover up the implant look very real. If you get dental implants in Boston, the only thing people will notice when you smile is your smile.
Dental Implants Help To Maintain Your Tooth Structure
Dental implants are the most permanent solution to missing teeth and they don't destroy your tooth structure. Even more, implants can help prevent bone deterioration and preserve the structure of your face.
We Make The Dental Implant Process Easy!
If you want dental implants in Boston, you came to the right place. As leaders in the New England area, Dental Partners of Boston works with the top implant providers who offer the latest in technology and techniques. If you have questions about dental implants, call us today and we'll walk you through the implant process, all the way through the restoration of the final tooth!
Thank you for letting us be your oral health care provider!