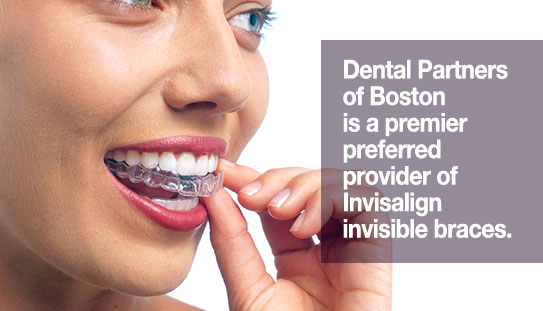 THE DESIRE TO HAVE A BEAUTIFUL, STRAIGHT SMILE is something that most of us can relate to. However, many people, adults in particular, find themselves uncomfortable with the idea of metal braces. Fortunately—you are in luck. We offer a variety of cosmetic and orthodontic solutions that can help straighten your teeth without the hassle of actual braces. One of the most popular of these solutions is Invisalign "invisible braces," and Dental Partners of Boston happens to be a Premier Preferred provider.
We promise the word "invisible" isn't too good to be true. Invisalign braces straighten your teeth through a series of clear, custom-molded, removable aligners. This means no metal wires or bands to irritate your mouth, and most people won't even notice you're wearing them!!
Here at Dental Partners of Boston, your treatment will start with a computer-generated image of how what your teeth will look like during each stage of treatment. We will then create custom aligners that will gradually shift your teeth into place from the back of your mouth to the front without any tightening your adjustments. By simply changing your aligners approximately every 2 weeks, your teeth will straighten and leave you with a smile to be proud of.
If you think invisalign may be the solution you've been searching for, request an appointment with one of our experienced  Invisalign orthodontists today. A straighter, more beautiful smile awaits you.