At Dental Partners of Boston, a comprehensive team of skilled dentists and specialists have partnered to provide full dental services, all from one practice, here in the heart of downtown Boston. In all, nine doctors are committed and available to ensure that each patient is provided with proper care, treatments, and solutions to meet every dental need. From general dentistry to specialty dental care, this varied team of partners has a dental practice fully equipped to provide excellent and inclusive dental services.
Each partner ho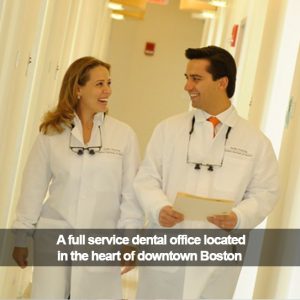 lds the degree of D.M.D. which is Doctor of Medicine in Dentistry, or sometimes Doctor of Dental Medicine. The level of education and clinical training required to earn this degree is on par with those of medical schools. Three or more years of undergraduate education is requisite, plus four more years of dental school is required to graduate and become a general dentist.
General dentistry encompasses a patient's regular check-ups and exams, plus any preventive measures necessary to avoid damage from decay, disease, or even trauma, with the aim of maintaining health and function of one's teeth. A general dentist will also use restorative procedures to repair the effects of oral maladies such as these.
When a general dentist chooses to continue his education, he becomes a specialist in a particular aspect of dental care. At Dental Partners of Boston, each doctor has pursued and achieved additional credentials to that of D.M.D. In addition to providing general restorative services such as tooth colored fillings, dental crowns,  dentures, or dental bridges, special emphasis can be provided in services such as dental implants, LANAP laser treatment, oral surgery, periodontics & gum therapy and prosthodontics.
Further specialties include full-mouth reconstruction and cosmetic dentistry. Complete smile makeovers can be performed as well as teeth whitening, invisible braces, lumineers, and even botox and dermal fillers to help relax muscles of the jaw when patients present with TMJ pain, which can be addressed with TMJ appliances at Dental Partners of Boston. Also night guards, adult orthodontics, snore guards, and sports guards.
It is a unique conglomeration of skills combined with the highest consideration and attention to detail that is Dental Partners of Boston; truly a full-service dental practice. Call or Contact Us today for an appointment.