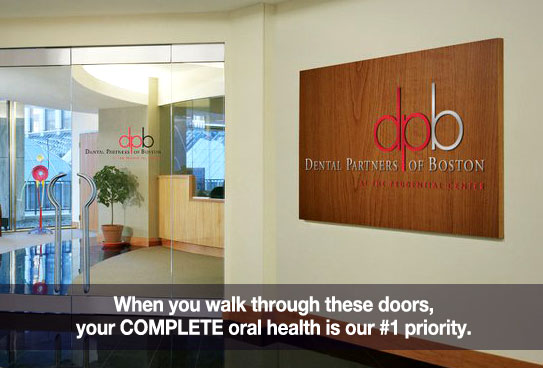 HERE AT OUR PRACTICE WE ARE ALL ABOUT making sure our patients have great oral hygiene and healthy smiles. As you probably already know, the most effective way to preserve the health of your teeth and gums is to maintain a great oral hygiene routine. This obviously means daily brushing and flossing, but what a lot of people seem to forget is that it includes regular examinations and professional cleanings too!
Dental Partners of Boston is one of the nation's most respected dental practices, and that is because we offer the highest level of dental care available. When you come in for general dentistry services, you can be assured that you will be in the best of hands. Like we said before, your oral health is our number one priority.
Our complete oral exams include:
Low-Radiation X-Rays: A simple x-Ray will allow us to detect decay, cysts, tumors, and bone loss. They also allow us the ability to determine the position of your teeth and roots. 
Oral Cancer Screening: These complimentary screenings include a thorough exam of the neck, face, tongue, lips, throat, tissues, and gums to detect signs of oral cancer.
Gum Disease Evaluation: Our team checks your gums and the bone surrounding your teeth for signs of periodontal disease.
Tooth Decay Screening: All tooth surfaces are examined for decay.
Examination of Your Existing Restorations: The conditions of our existing fillings and crowns are evaluated.
Smile Analysis: For those patients who are unhappy with their smiles, we can create the smile of their dreams.
Occlusion Analysis: Our dentists are trained to evaluate your bite for occlusion problems. Improper bites can contribute to TMJ and affect the overall structure of your face.
To request an appointment for a dental exam with one of our doctors, please contact our office today. Your smile and oral health with thank you!

We look forward to seeing you the next time you visit!