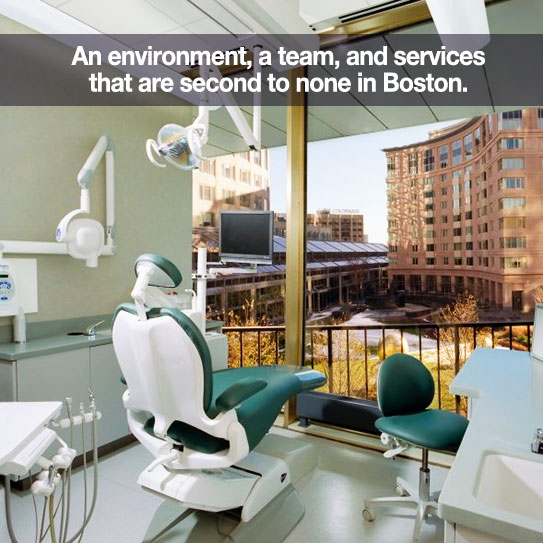 ARE YOU LOOKING FOR A DENTIST in Boston? Or if you're already our patient, do you have an extended family member, friend, neighbor, or coworker who's looking for a Boston oral health care provider? We don't usually spend too much time talking about ourselves—we'd rather give you helpful advice about your oral health, and informative posts about our services and resources. However, we wanted to talk today about why the experience at Dental Partners of Boston is unlike any other.
#1: The Environment
Our offices are designed to be comfortable and luxurious. With the latest technology in a clean, soothing atmosphere, you can feel completely at ease whenever you come visit us.
#2: The Team
Our team of dental professionals has been selected from the very best that the profession has to offer. Not only are they highly educated and experienced, but they also know how to put your comfort and concerns first.
#3: The Services
Our services range from routine dental cleanings to dental implants, from simple whitening to major cosmetic procedures. Because of our resources, we're able to take care of any dental procedures that you need. And because of our team approach, we can coordinate your care with greater efficiency and value than anywhere else.
Thanks For Making Us Number 1
Our Dentists were named "America's Top Dentists" by the Consumer's Research Council of America, and in a patient survey of dentists across the country, we were rated #1.
We know that this is due to the people we take care of every day. So to our wonderful patients: thank you for your continued support, references, and loyalty.
And if you haven't yet experienced what Dental Partners of Boston has to offer, give us a call. Whether you're nervous about the dentist, looking for a place to do bigger procedures, or simply looking to get more value out of your experience at the dentist, we have something to offer you. We're excited to see how we can best serve you and your needs.
Be sure to LIKE our Facebook page too!