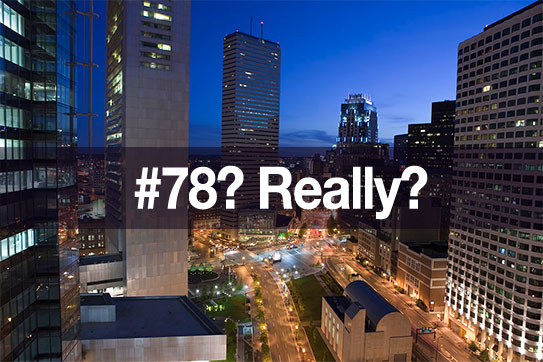 A COUPLE OF YEARS AGO, Men's Health Magazine ranked 100 U.S. cities on their dental health. Any guesses on how Boston stacked up? Well, we weren't in the bottom ten, but we were alarmingly close. Boston ranked #78.
There's Room For Improvement
We can do better! Good dental habits aren't just important for your teeth. Oral health is strongly connected to overall health.
The scores were based on:
Missing Teeth Count: Missing teeth are a sign of disease and neglect.
Fluoride: Many locations have a fluoride supplement in the water supply, which reinforces tooth enamel.
Floss Purchased: That's right. Flossing is that important.
Regular Checkups: Your regular appointments keep your teeth healthy and prevent trouble down the road.
Now, we're pretty sure that if they had exclusively surveyed our patients, all of you would have passed with flying colors. Here at Dental Partners of Boston, we consider ourselves your partners in dental health. We're dedicated to teaching you more about good oral health habits and catching problems before they start.
Keep Up Your Good Habits, AND Pass The Word Along

Make sure that you are at your personal best when it comes to your oral health by maintaining a regular regime of brushing, flossing AND keeping your regularly scheduled check-ups with us. If there's something that you're concerned about or a service you want to look into, contact us!
And if your hometown pride is chafing under the #78 rating, then spread the word about us. Let your friends, coworkers, and family members know how much you love our personal service. We've found that when people are more comfortable with their dentist, they keep their appointments, trust our advice, and have the courage to catch small problems before they snowball into tooth loss.
We look forward to seeing you at your next appointment. Thanks for being our valued patient!