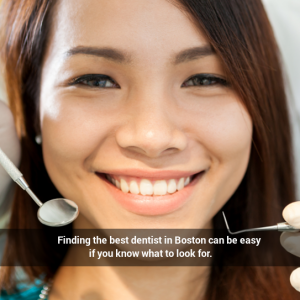 Finding a new dentist can be difficult, especially when you move to a big city where you are spoiled for choice. Fortunately, finding an excellent Boston dentist is easy if you know what to look for. Here are a few factors you should consider as you search for the best dentist Boston, MA has to offer.
Use the Web
One of the best resources available to prospective patients is the detailed information often available online. here, you can learn about different dentists, their practices, and which services they offer. Using your favorite search engine, look for dentists in your area who specialize in the kind of dental treatment you need. A well-developed website is an excellent sign. Look for a site that offers helpful information, such as new patient paperwork, a list of accepted insurance providers, and detailed explanations of what to expect during different procedures. While there, take the time to read the dentist's biography page to learn more about their education, their specialty, and their practice philosophy.
Professional Memberships
Check to see if the dentist belongs to the American Dental Association, a nationwide organization dedicated to improving oral health and dental practices. Dentists should also belong to state and local dental associations, which work to keep dental practices safe and up-to-date. See if they have been certified by organizations relevant to their specialty, or otherwise recognized by peers.
Referrals
Talk with family and friends in the area about who they use for dental care. Try to get a feel for what they like and don't like about the practice, and whether or not they are generally happy with their dental work. Once you have narrowed down your search, look on the dentist's website to see whether or not they have a patient reviews page. Reading reviews from actual patients can give you valuable insights that might be hard to detect otherwise.
Practices With Multiple Dentists
As you search for the right practice, try to find a dental office that employs more than one dentist or specialist. Practices with multiple dentists tend to offer a greater variety of services and appointment times. For example, if you find a practice with a general dentist, an orthodontist, and a board certified periodontist, you could go to the same practice to have your early gingivitis treated and to have your teenager's braces adjusted.
Your First Impression
To learn more about your prospective dental offices, visit different practices in person. Try to gauge how you are treated by the staff, and talk with them about what makes their practice great. First impressions count, and the right dental practice will work hard to earn your business.
By doing your research and knowing what factors to consider, you can find the best dentist in Boston to serve your family. We hope that you'll give Dental Partners of Boston your consideration. For more information about our practice, check out our services or contact us today.