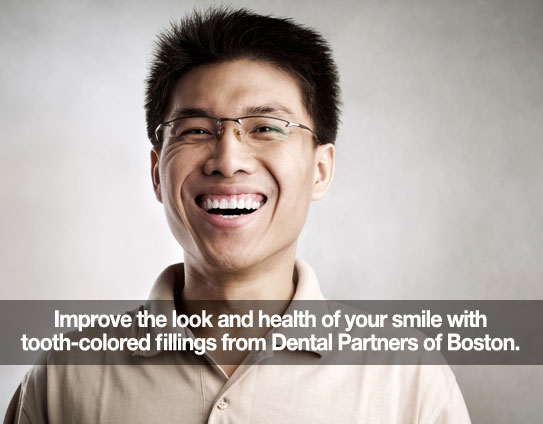 TOOTH COLORED FILLINGS not only look more natural than silver fillings, they're actually healthier for your teeth!
Tooth Colored Fillings Look Beautiful And Natural
At Dental Partners of Boston we're masters at matching the shade of our fillings to your individual tooth color, making them virtually undetectable. Our white fillings can even blend in with any whitening services you may have received. That way, when you grin, there'll be no distracting metal, just your white, natural-looking smile.
Tooth Colored Fillings Are Better For Your Smile
Unlike metal fillings, which require that large, important parts of your tooth be removed to lock them in place, tooth colored fillings—made of durable resin or porcelain—can actually bond to your tooth structure without digging deep in the tooth. Composite resin is also easier to work with as it can be applied right to your tooth, shaped, and then hardened.
Tooth colored fillings also provide strength AND flexibility. Whereas metal fillings are strong but stiff (and could stress and even crack your teeth), white fillings have absorption qualities similar to your natural teeth and can better handle everyday biting and chewing.
Improve The Look And Health Of Your Smile!
With natural looking white fillings from Dental Partners of Boston, you can improve the health and look of your smile. To find out how you can get tooth colored fillings in Boston, contact us by giving us a call or sending us a message on Facebook.
We're proud to be your oral health care provider!