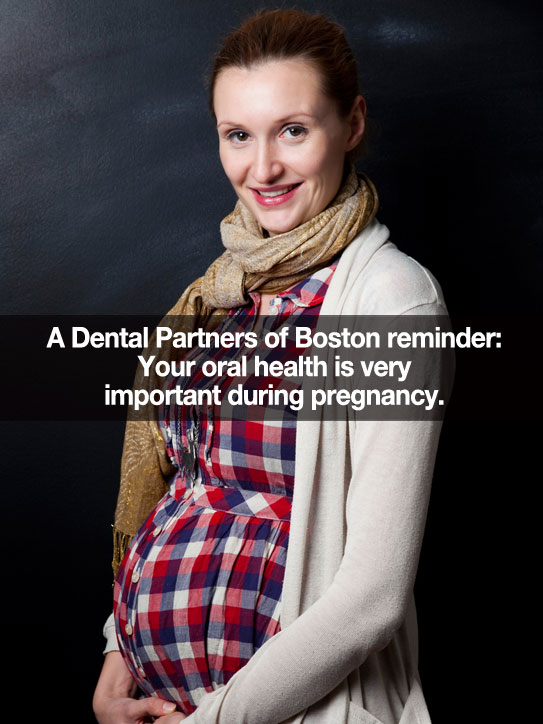 AT DENTAL PARTNERS OF BOSTON we know that oral health is an important component of general health. For that reason we encourage expecting mothers not to put their dental care on hold during pregnancy—for their own and their child's sake.
To Maintain Good Oral Health During Pregnancy…
Don't skip the dentist. Pregnancy changes hormones and can increase your risk for periodontal disease. We want to keep an eye on (and you should to) any changes in your oral health.
Tell us you're pregnant so we can make any necessary adjustments to your treatment.
Tell us which medications you're taking and the doses.
Don't delay treatment. Prevention, diagnosis, and treatment (X-rays, anesthesia, tooth extraction, root canal, cavity filling, etc.) is safe with proper precaution. Your safety is our priority!
If you're not already, start a strict routine of oral hygiene. You should be brushing twice a day (some recommend using fluoridated toothpaste) and flossing at least once a day.
Ignore the cravings and limit sugary foods! If you snack too much you may increase your risk of tooth decay.
Eat a healthy, balanced diet. Eating dairy is good for your developing baby's bones, gums, and teeth!
If you're dealing with vomiting, caused by morning sickness, make sure to rinse your mouth out with water or a mouth rinse (some recommend using a baking soda solution).
See Us After Delivery
Pregnancy brings about a lot of changes that can affect your oral health. After your child is born, call us to set up an appointment. We want to make sure that your smile is healthy.
Thanks for being our valued patient!