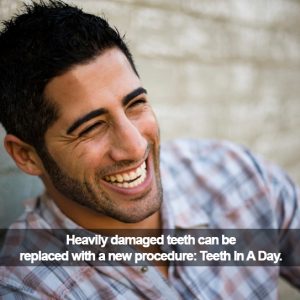 Sometimes, following disease or injury, a person's natural teeth are beyond saving. Damage and decay, which is irreversible, can lead to the loss of all the teeth in one or both jaws. In the past, the loss of teeth was usually addressed with dentures. However, traditional dentures can be uncomfortable, inconvenient, and ultimately ineffective.
Fortunately, modern dentistry provides an alternative. If you are suffering from multiple tooth loss, you may qualify for our TEETH-IN-AN-HOUR™ treatment.
How It Works
With TEETH-IN-AN-HOUR™, our dentists can replace an entire row of teeth with a permanent, non-removable denture secured by dental implants. This denture is firmly secured and will replace the aesthetics and function of your missing teeth. Although the name "teeth in an hour" is not literal—the procedure can take longer—it does indicate a significant improvement over other processes for installing dental implants, which can take months. TEETH-IN-AN-HOUR™ is installed in one visit, letting you walk out of our office with a full new row of healthy teeth.
To achieve this speed, we use a 3-D scan of your mouth and a computer-aided design and manufacturing process. Your dentist plans most of the work of crafting your new teeth and plans implants before the procedure. Our dentist installs the teeth as soon as any remaining teeth are removed.
Requirements
Not everyone qualifies for TEETH-IN-AN-HOUR™, which relies on a healthy jawbone to support the implants. A healthy jawbone is necessary to secure your new teeth in place. If your tooth loss is due to bone deterioration, or if your immune system is compromised, you may not be able to get TEETH-IN-AN-HOUR™. We can advise you about your specific case after an initial exam.
Rediscover Your Perfect Smile
Whether you're dealing with missing teeth, injuries, or severe tooth decay, don't hesitate to reach out to us. Schedule an appointment by calling our office or contacting us online. Our team of skilled dentists at Dental Partners of Boston is dedicated to restoring your dental health. Let us provide you with expert care and witness the transformative power of a complete and beautiful smile.