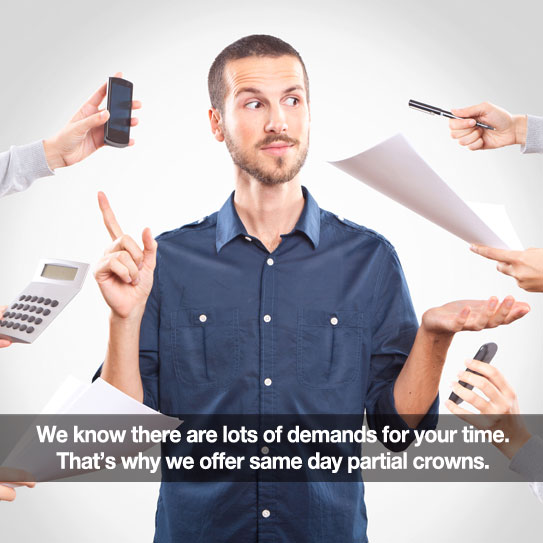 NOBODY LIKES GETTING DENTAL WORK DONE. Taking time out of your busy schedule to be prodded and numbed is just not appealing. We know that you have things to do and people to see, and that's why we offer same-day partial crowns.
Sometimes tooth decay is too big of a problem for a dental filling, but too small for a dental crown. In those cases, we often use partial crowns, also called inlays and onlays.
It Means Less Time And Stress For You
Inlays and onlays are designed to fit your tooth like a puzzle piece, replacing the decayed parts of the tooth. We use Cerec 3 technology so we can offer you same day partial crowns. This means we can fix up your teeth in one quick and easy visit, instead of two.
First, we carefully match the partial crown to the color of your teeth.
Then, we'll numb both your gums and teeth.
When you're comfortable, we'll clean your tooth and remove anything that will impede the placement of your partial crown.
Then, using Cerec 3, we create a custom-milled partial crown that will perfectly fit in your tooth. The crown is then placed and bonded to your tooth.
Partial Crowns Protect Your Mouth's Healthy Function
We use porcelain in our partial crowns. This reduces the risk of allergic reactions, and is aesthetically ideal, since it blends perfectly with your natural teeth. Partial crowns are strong and long-lasting. They will help protect your tooth from further decay and keeps your tooth's natural structure in place.
Our Resources Give You The Very Best Care
Here at Dental Partners of Boston, we pride ourselves in keeping on the cutting-edge of dental technology and techniques. Whatever your needs, we have the resources to provide you with effective, convenient, and high-quality care.
If ever you have any questions about the methods and technology we use to treat your oral health, just ask! We're always happy to talk with you.
Thanks for your trust in our dental practice. We appreciate you!