CAN YOU BELIEVE HALLOWEEN IS ALREADY OVER? Time sure does fly. Although it's always tough to usher out the costume parties, candy, and pumpkins we're excited to usher in the "season of gratitude". Here at Dental Partners of Boston, we love November and the wonderful spirit it brings. Why wait until Thanksgiving Day to express our thanks? We want to let you know TODAY how grateful we are for all of you—our wonderful patients and friends. 
Thanks For Your Kind Reviews On Yelp
Just over a month ago, we received a nice letter from Yelp congratulating our dental practice on the amazing reviews we have been receiving. We know that it's because of all of YOU that we have those reviews in the first place! Thank you for thinking of us. We love and value your support.
Here at Dental Partners of Boston we take pride in offering our patients the highest quality services available. We put your needs first, because we love and value your friendship. With expertise in every aspect of dental care from root canal therapy to adult orthodontics, we promise you will be in the best of hands no matter what services your smile requires.
So, once again…we'd like to express our thanks to all of our patients throughout the years. You are the reason we love coming to work everyday!
If you haven't yet reviewed us on Yelp, please do! Your input and advice make us a better practice.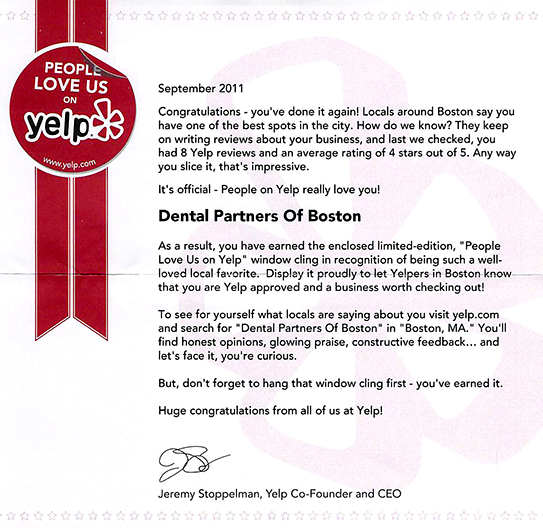 We Look Forward To Your Next Visit!
If you're not already scheduled, be sure to contact us today.
Before you go, join our practice on Facebook to keep up with everything going on in our office! We look forward to connecting with you there!