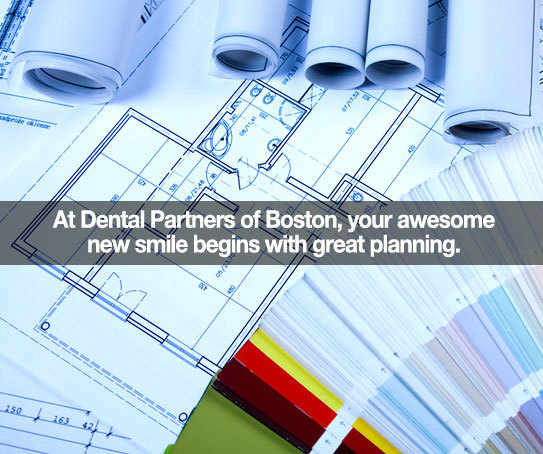 HERE AT DENTAL PARTNERS of Boston, we believe that the importance of a healthy and confident smile can't be overstated. That's why we work so hard to ensure that our patients have access to the very best cosmetic, restorative, and preventative dentistry in Boston.
Have you ever found yourself covering your teeth when you laugh, or feeling bashful about smiling when you make a new acquaintance? If you're unhappy with your smile, it's probably time for a smile makeover consultation with our team. But what should you expect from an initial appointment?
1: We Want To Hear From YOU
First of all, we'll want to talk, give you an idea of what we offer, and show you some examples of other cases. We'll also want to hear from you: what you're concerned about, the results you're hoping to get, etc.
2: We'll Evaluate Your Teeth And Health
Secondly, we may take a few x-rays, photos, and/or impressions. We'll want to take a good look at the status of your teeth and gums. Understanding your dental health, tooth alignment, and your habits will enable us to set up a practical action plan.
3: We'll Set Up A Game Plan
Finally, we'll be able to give you a more solid idea of the game plan: cost, duration, and steps.
And here's our promise to our patients: We promise to put the priority on YOU—your sustainable, long-term health and your vision for a beautiful smile. We don't ever want you to feel pressured. Instead, we hope that you're always at ease with our practice and with our doctors.
Contact Us To Set Up A Consultation
So stop putting it off! If you've been wondering about a smile makeover, talk to us about it. A smile makeover consultation is the first step, and the only way to get a real solid idea of the possibilities. It's easy to request an appointment online.
Thanks for your trust in our practice! We look forward to talking with you.