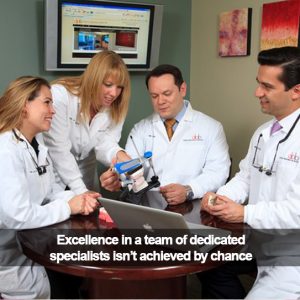 We, the team at Dental Partners of Boston, are very proud of the practice that we have all helped to build. This pride is a direct result of the excellence that Dental Partners of Boston strives for on a day-to-day basis, a week-to-week basis, a month-to-month basis, and a year-to-year basis. Excellence in the services we provide, excellence in our customer service, and excellence in everything else that we do. Our patients come first and we have a solution to everything our patients need.
A Dedicated Team
Dental Partners of Boston has rounded up nine of the most skilled doctors out there in the field of dentistry. In our practice, we have dentists who specialize in restorative dentistry, periodontology, dental implants, prosthodontics, orthodontics, and endodontics. This allows us to diagnosis and treat a wide variety of dental issues in house.
Beyond the doctors, we have a devoted clinical staff and a dedicated office staff who share our dream of providing excellent service. The clinical staff assists with dental procedures and helps with dental cleanings while the office staff ensures appointments are made and the operations continue smoothly. Together, we all work together in our belief that excellence isn't achieved by chance; it's achieved through purpose and design. Dental Partners of Boston provides the best care possible for our patients.
Whatever You Need, We Have a Solution
From our office management staff to our clinical staff, Dental Partners of Boston strives to prove that excellence isn't achieved by chance. Excellence is achieved through hard work, dedication, and putting our patients first and foremost. Whether it is helping with bill payment, insurance, or appointment setting to dental cleanings, consultation visits, and dental procedures, we strive for excellence in all things here with Dental Partners of Boston. With a dedicated group of specialists, we always have a solution for our patients. Whatever you need, we have the answer here at Dental Partners of Boston. We invite you to contact us today!